Press Release
New report uncovers Viet Nam's significant progress and barriers to gender equality and puts forth a robust agenda for the Nation to shift gears
26 October 2021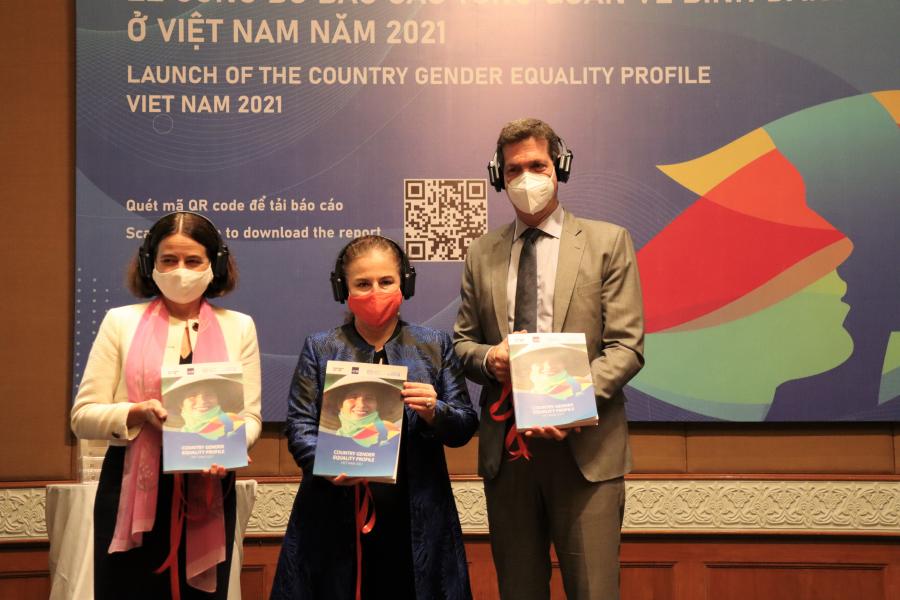 Ha Noi, 26 October 2021- UN Women and the Australian Embassy in collaboration with ADB and ILO today launched the flagship report, the "Viet Nam Country Gender Equality Profile." Through concrete evidence and data measured against key socio-economic indicators, the report demonstrates the progress Viet Nam has made towards gender equality and puts forth actionable recommendations on how to address remaining barriers with the goal of fulfilling the country's gender equality-related targets under the Sustainable Development Goals.
This report is the first-of-its-kind in Viet Nam. It takes a broader lens on gender equality to include discussion of gender identity and sexual orientation, and to highlight data relevant to intersectional identity – such as ethnicity, disability and age, etc.
Opening the launching event of the report, Ms. Elisa Fernandez Saenz, Country Representative of UN Women in Viet Nam, said "This report's analysis underlines that gender equality is intrinsic to the very quality, durability, and advances made to Viet Nam's socio-economic development. Therefore, unless progress on gender equality is significantly accelerated, the Sustainable Development Goals cannot be achieved. This is an urgent call for action, and the report recommends the directions to follow."
Conducted over the course of a year, the Viet Nam Country Gender Equality Profile (CGEP) represents the collective knowledge, advice, and dedication of many agencies and individuals, combining national and international expertise. This multi-agency effort has identified gender issues and disparities in every sector under examination: governance, labor, agriculture, business, transport and connectivity, urban development, family life, social protection, migration and climate change.
Speaking at the launch, Australia's Ambassador to Viet Nam Robyn Mudie said "we have invested in this data collection because of a belief in the power of evidence – to stimulate debate, and drive policy, services and opportunities. For Australia, the 16 Key Recommendations describe where we should focus our gender equality partnership with the Government of Viet Nam, and where we can support groups who face complex, intersecting disadvantage."
Mr. Andrew Jeffries, Asian Development Bank (ADB) Country Director for Viet Nam commented on how the CGEP will contribute to promoting gender equality in Viet Nam when he said: "Accelerating progress in gender equality is one of the ADB's operational priorities under ADB's region-wide Strategy 2030, and we are very pleased to see that the report in particular covered gender analysis in our operational areas in Viet Nam, such as the environment, and urban and rural development. ADB works to finance infrastructure and services so they are more accessible, affordable and safer for users and beneficiaries, including for Vietnamese women and girls. We will continue to work with the Government and development partners to promote gender equality in Viet Nam."
This report was finalized as Viet Nam was responding to its fourth wave of COVID-19 and, unfortunately, sex-disaggregation of the official case numbers are not available. However, unlike previous global public health and financial crises, COVID-19 has been singularly detrimental for women and girls, and has exposed gendered fault lines in the economy and social structures.
"The COVID-19 pandemic has disproportionally hit women in Viet Nam and exacerbated the persistent gender gaps in the labour market. For instance, this report shows that women's labour force participation rate fell more than men's, widening the gender gap slightly to 10.8 per cent," said Ms. Nguyen Hong Ha, Officer-in-Charge of the International Labour Organization (ILO) in Viet Nam.
She went on to say, "As Viet Nam is now focusing on building forward the economy and society from the COVID-19 pandemic, it is an opportunity to build forward fairer by placing gender equality at the core of the recovery efforts and putting in place gender-responsive strategies."
The report provides a wide range of recommendations for change, highlighting three key areas of action: (1) Strengthening the implementation of existing gender equality commitments; (2) Addressing the underlying barriers to gender equality; and (3) Driving gender equality progress in the coming decade.
Viet Nam Country Gender Equality Profile aims to serve as a primary source of evidence to drive the prioritization of financing, programming and advocacy to advance gains and overcome bottlenecks to gender equality in Viet Nam. It is intended that the CGEP will also contribute to Viet Nam's monitoring of gender equality-related targets under the UN Sustainable Development Goals.
The report and its executive summary are available at THIS LINK.
New report uncovers Viet Nam's significant progress and barriers to gender equality and puts forth a robust agenda for the Nation to shift gears
UN entities involved in this initiative
UN Women
United Nations Entity for Gender Equality and the Empowerment of Women