Press Release
IOM Viet Nam Launches Qualitative Research on Risks of Exploitation Encountered by Vietnamese Migrant Workers
19 October 2021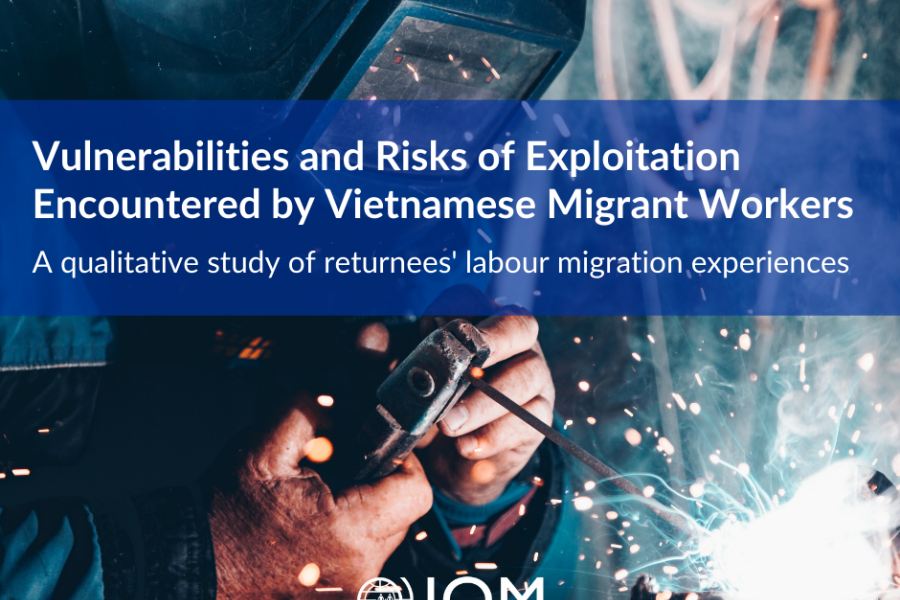 Ho Chi Minh City 19 October 2021 - The International Organization for Migration (IOM), Mission in Viet Nam, today has launched a qualitative research "Vulnerabilities and Risks of Exploitation Encountered by Vietnamese Migrant Workers". The report analyzes the experiences of Vietnamese returnee migrant workers during recruitment, employment and return, and examines specific vulnerabilities and risks of exploitation.  
Labour migration is an integral part of Viet Nam's overall development, reflected in growing remittance flows, alleviation of domestic labour market pressure, and skills transfer. However, gaps in regulatory oversight of recruitment agencies, as well as limited administrative and criminal law enforcement, allow unethical recruitment practices to continue in Viet Nam, putting migrant workers at risk of forced labour and human trafficking.  
The report calls for a comprehensive understanding of complex migrant worker journeys to most popular destinations – Japan, Taiwan Province of the People's Republic of China and the Republic of Korea – examining risk and vulnerabilities at various stages of labour migration process. 
It provides recommendations to support the development of strategies by state policymakers and stakeholders to further strengthen protection of Vietnamese migrant workers from exploitative recruitment and employment practices.
The study, funded by the IOM Development Fund and Global Fund to End Modern Slavery, is based on qualitative survey methods consisting of in-depth interviews with migrant workers, focus group discussions, family case studies and key informant interviews. It has been delivered by the Overseas Development Institute (ODI) in collaboration with the Institute for Family and Gender Studies.
The research is part of the wider effort of IOM to support progress towards the implementation of the Global Compact for Safe, Orderly and Regular Migration and realization of the migration-related Sustainable Development Goals (SDGs).  
The report is currently available in English and Vietnamese.  
For more information about the research, please contact Nguyen Thu Huong at thuongnguyen@iom.int   
For media inquiries, please contact Nguyen Thi Hong Yen at thihnguyen@iom.int
UN entities involved in this initiative
IOM
International Organization for Migration