Press Release
Policy Dialogue: "Gender equality in digital transformation in Viet Nam: Opportunities and challenges"
03 March 2023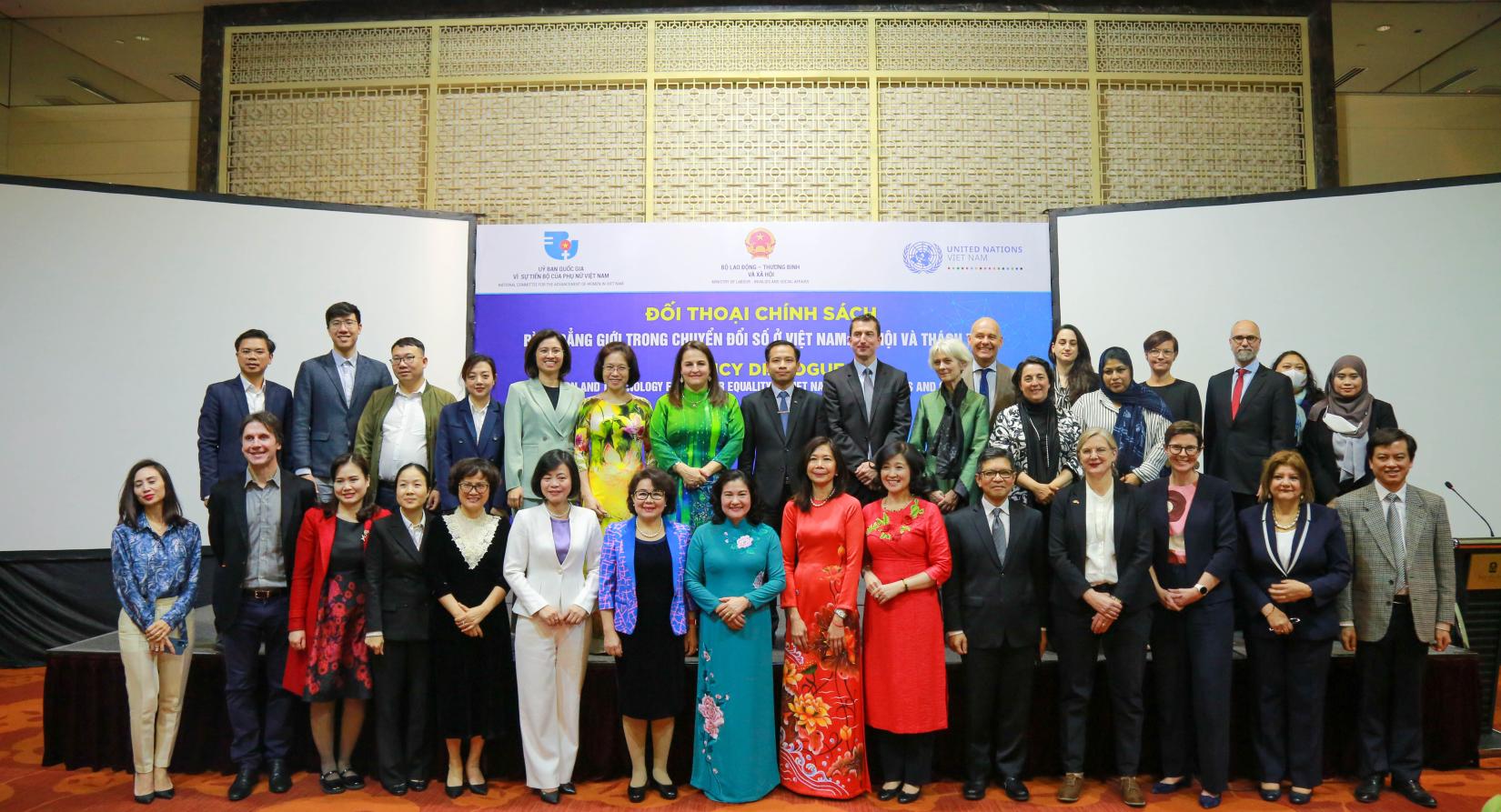 Ha Noi, 03 March 2023 – Today, in commemoration of the International Women's Day, the United Nations in Viet Nam, in collaboration with the Ministry of Labour, Invalids and Social Affairs (MOLISA), the National Committee for the Advancement of Women in Viet Nam (NCFAW) co-organized a policy dialogue on the topic: "Gender equality in digital transformation in Viet Nam: Opportunities and challenges". The event brought together about 100 participants including leaders and officials from ministries, agencies and sectors at the central level and some localities, socio-political organizations, non-governmental organizations, United Nations agencies in Viet Nam, embassies, donors, businesses and the media.
The Policy Dialogue this year also aligns with International Women's Day's global theme "DigitALL: Innovation and technology for gender equality" and responds to the priority theme of the 67th Session of the United Nations Commission on the Status of Women (CSW67) "Innovation and technological change, and education in the digital age for achieving gender equality and the empowerment of all women and girls", with a view to recognizing and celebrating the contributions of women and girls in innovation, technology and digital education while identifying the impacts of digital transformation on the risks of exacerbating economic and social inequalities. The event also highlighted the significance of digital transformation, which, with its enormous potentials, is believed to become a pivotal "enabler of change" for gender equality, women's empowerment and in addressing technology-facilitated gender-based violence (GBV).
In Viet Nam, with the "National Program on Digital Transformation until 2025, with a vision toward 2030" approved by the Prime Minister on June 3, 2020 (Decision No. 749/QD-TTg), innovation and technology has become a priority of the Government as well as ministries and sectors in recent years. Digital transformation has spread deep and broad impacts, covering all sectors and socio-economic fields, contributing to elevating labour productivity, transforming operational and business models towards innovation, thereby fostering the competitiveness of the country.
Apart from that, innovation and technology have been still often seen as male-dominated areas. In recent years, women have been gradually building up certain advantages in technology, with expanded job opportunities. According to the International Labor Organization (ILO), in Viet Nam, women account for about 37% of the workforce in the technological sector in Viet Nam, higher than that of the world (25%). Gender diversity is also a factor of concern by technology companies in Viet Nam to enable them to generate good, safe and suitable products for the majority of users. However, the majority of women working in the technological sector still primarily assume such positions as testing, marketing, sales, administration and human resources, rather than technical roles such as software developer. 
There are various reasons why the proportion of women working in this field is still limited, such as the lack of policies and programs to promote women's participation in the technological sector, and the persistent gender stereotypes on women and technology. How to break down the barriers and empower women in an inclusive way has also been a challenge for numerous businesses operating in the technological domain in Viet Nam nowadays.
Speaking at the opening of the event, Mrs. Nguyen Thi Ha, Vice Minister of MOLISA affirmed: "The explicit awareness of gender issues emerging in the context of digital transformation will enable relevant authorities to improve the policy and legal framework, to facilitate more women and girls in having the opportunities to partake in this field. Therefore, raising awareness of educational opportunities and eliminating gender stereotypes in curricula and career orientation, especially in science, technology, engineering and mathematics (STEM) training has been seen as the key to foster women's participation in digital transformation. Changing expectations about gender stereotypes in professions, including enhancing female role models' participation in information technology, digital transformation will also create a boost in women's confidence in the field of information technology. Equipping women with necessary skills and supporting their transition to digitally relevant forms of jobs is critical to ensuring that women are not left behind."   
Ms. Pauline Tamesis, United Nations Resident Coordinator in Viet Nam highlighted that "This year's International Women's Day priority theme provides a unique opportunity to revisit the gendered impacts of innovation and technology and to identify recommendations that will allow for a more inclusive and equitable digital evolution in Viet Nam. Against this background, the UN in Viet Nam would offer some thoughts for further discussions including ensuring gender perspectives in national digital policies and allocating resources for full implementation; strengthening quality education for women and girls; forecasting and anticipate future job and skill need; strengthening data collection and addressing gender-based violence online."
Participants focused on discussing the current situation of digital transformation in Viet Nam and the role of women in the digital era in different spheres, as well as proposing solutions to narrow the gender gaps which are hindering the participation of women and girls in education, science, technology and the labour market pertaining to innovation, technology and digitalization. The issue of protecting the safety of women and children against all forms of violence in the cyber space was also discussed at the event.
The information shared and recommendations made at the Policy Dialogue will be fed into Viet Nam's report at the 67th session of the Committee on the Status of Women held by the United Nations in mid-March in New York, USA.
-End-
For further information, please contact:
Ms. Hoang Bich Thao – Communications and Advocacy Analyst
Communications Group of the United Nations 
TEL: +84 4 3850 0376
Email: hoang.thao@unwomen.org
Nguyen Viet Hai – Specialist of the Gender Equality Department 
MOLISA
TEL: 0983084703
Email: viethai703@gmail.com
Hoang Bich Thao
UN Women
Communications and Advocacy Analyst
UN entities involved in this initiative