Speech
Resident Coordinator of UN in Viet Nam | Policy Dialogue: "Gender equality in digital transformation in Viet Nam: Opportunities and challenges"
Remarks by Ms. Pauline Fatima Tamesis, United Nations Resident Coordinator in Viet Nam
3 March 2023
Pan Pacific Hanoi Hotel, 1 Thanh Nien, Ba Dinh, Ha Noi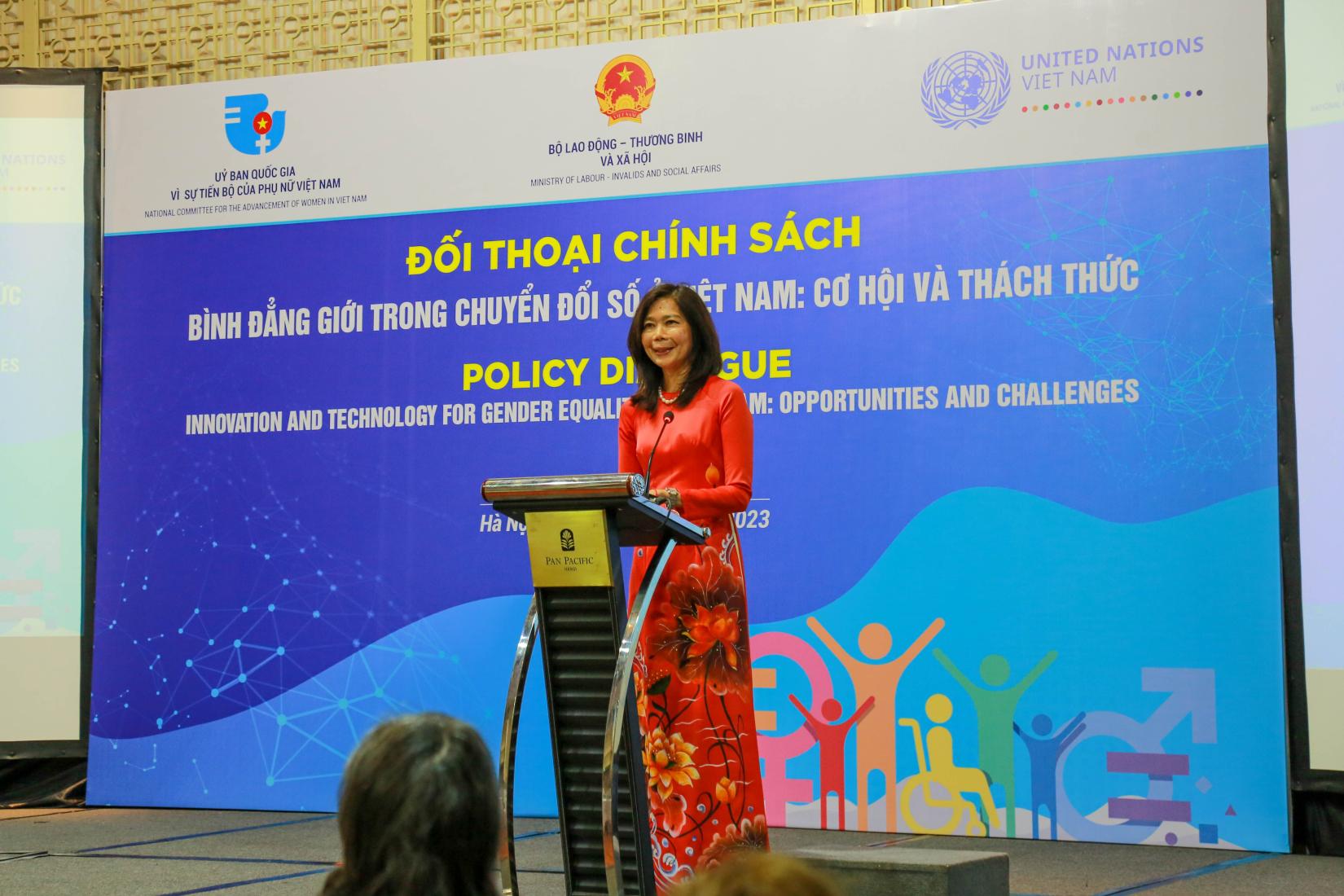 Mme Nguyen Thi Ha, Vice Minister, Ministry of Labor, Invalids and Social Affairs, Chairperson of the National Committee for the Advancement of Women of Viet Nam,
Mr. Trieu Van Cuong, Vice Minister, Ministry of Home Affairs
Excellencies Ambassadors,
Distinguished Guests, Colleagues and Partners,
Warmest welcome! We are excited to gather today to commemorate International Women's Day. I am honoured to be here representing the UN in Viet Nam and to open today's policy discussion on the topic of "DigitALL: Innovation and technology for gender equality".
[We all know that] the digital revolution has tremendous potential to accelerate progress toward the Sustainable Development Goals, including on one of the most vexing challenges of our time -- gender equality. When the UN Secretary-General, Mr António Guterres, visited Viet Nam last year, he did not speak about accelerating progress towards the Sustainable Development Goals. He spoke about rescuing them. We only have seven more years until 2030. We know it will require political will, solidarity and resources. And, it will also require digital and technological innovation.
This transformation will affect how we work, learn, and communicate. It disrupts status quo, opens up new opportunities and breaks down traditional barriers to women's ability to participate. It can improve the well-being, education, health and livelihoods of women and girls. It can raise women's and girls' awareness of their rights, increase their civic engagement, and provides platforms to share their ideas.
The global theme of the International Women's Day this year is also the priority of the 67th session of the United Nations Commission on the Status of Women (CSW). The Commission on the Status of Women is the principal global intergovernmental body exclusively dedicated to the promotion of gender equality and the empowerment of women. The CSW is instrumental in promoting women's rights, documenting women's day-to-day lives and shaping global standards on gender equality and the empowerment of women. This year, the CSW will convene participants from governments, the UN family, and NGOs. We meet here today to contribute to this global dialogue by discussing this theme in the context of Viet Nam.
Distinguished guests,
In Viet Nam, the Government has set out on an ambitious journey. Digital transformation is needed in society and in the economy. It is considered a vehicle to increase productivity, stimulate innovation, and ensure that Viet Nam remains competitive internationally. Looking into the future, and towards Viet Nam's ambition to become a high-income country by 2045, the digital transformation journey must include all citizens as active contributors. Gender-responsive digital transformation and innovation are vital to achieve this ambition.
We have already seen how innovation and technology have helped to improve the lives of women and girls in Viet Nam. From mobile apps that provide health-related information, to e-learning platforms that make education accessible to women and girls in remote areas, to digital platforms that empower women entrepreneurs to start and grow their businesses, we have witnessed the transformative impact of technology on gender equality.
At the same time, we must also recognize that innovation and technology risk perpetuating gender stereotypes and exacerbating existing inequalities. Women's exclusion from the digital world has shaved $1 trillion from the gross domestic product of low- and middle-income countries in the last decade— a loss that will grow to $1.5 trillion by 2025 if no action is taken. Even though 75% of all jobs globally are expected to be in the field of science, technology, engineering or maths by 2050, in Viet Nam, women comprise only 36% of the current proportion of graduates completing tertiary education in STEM. It is not surprising that out of all the sectors in Viet Nam, the greatest gender imbalance is found in the innovation and tech industries. Technological and digital innovations will drastically cut the demand for unskilled and low-skilled labour, majority of which are women.
The digital world has also given gender-based violence new spaces to thrive. 38 % of women in 51 countries have experienced online violence. In addition to threatening mental and physical well-being, discrimination and the risk of online violence may also limit women and girls' active digital participation. Worldwide, the impunity of technology-facilitated violence remains dangerously unchecked. This includes children's exposure to harmful and objectionable content. In Viet Nam, up to 70% of children are exposed to harmful and objectionable content. Human traffickers have also moved online. The lack of data on digital violence in Viet Nam is a critical gap. Online violence, including gender-based violence online, remains a fairly new topic of discussion. Further research and more disintegrated data are needed to better understand and address these issues.
This year's priority theme is a call to action.
We need to urgently deepen our understanding of the gendered impacts of innovation and technology and propose concrete solutions that will allow for a more inclusive and equitable digital evolution in Viet Nam. I offer four recommendations for today's discussions.
First, let us ensure that gender perspectives are included in national digital policies, and their potential amendments, with time-bound, gender-specific indicators and targets, and that allocate resources are allocated to enable full implementation.
Second, with the government in the lead, all actors need to accelerate promotion of and access to quality education for women and girls throughout their lives, not least in science, technology, engineering and math.
Third, we need to anticipate and simulate future job and skill needs and invest in building capabilities required to meet the needs of the 21st century. This is one step to minimize the adverse, gendered impacts of digitalization.
Fourth, we need data to inform gender-responsive policies.  The government needs to strengthen data collection to better understand the full dimensions of gender and innovation and technology, and to address gender-based violence online. The issue of gender-based violence online should also be included in relevant legislation.
Today's celebration of International Women's Day asks all of us to commit to a world where innovation and technology are harnessed to create a more equitable and just society. The United Nations in Viet Nam, puts highest priority to this commitment in support of the Government and the people of Viet Nam.
Thank you! Xin cam on!
Speech by
Pauline Tamesis
RCO
Resident Coordinator
UN entities involved in this initiative