Press Release
UNESCO, MOET, Youth Union and CJ Group join hands to promote education for ethnic minority girls
28 March 2023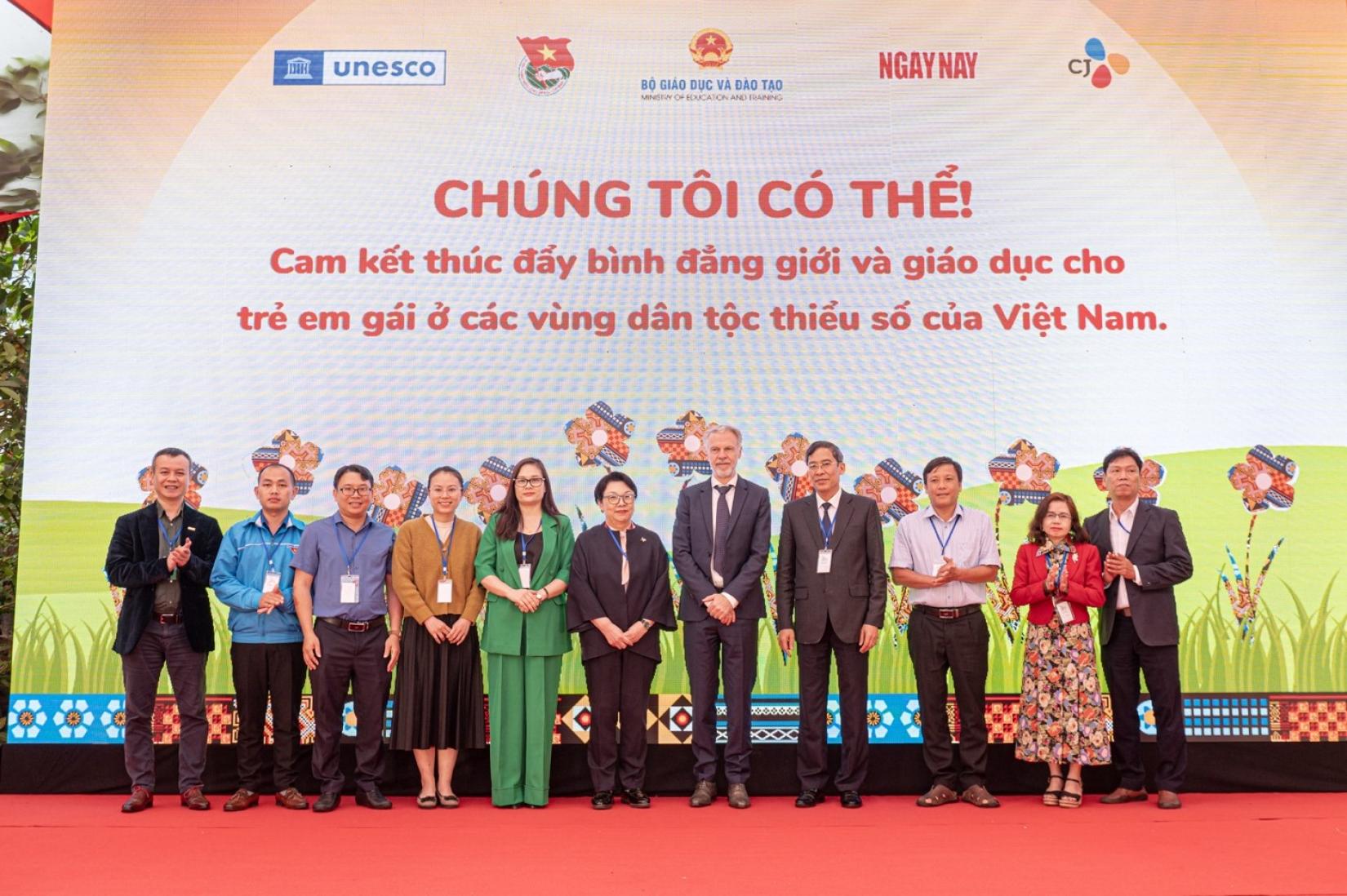 28 March 2023, Green One UN House, Ha Noi - Over 100 participants and thousands of livestream audiences joined the Announcement Ceremony of phase II of the project "We are ABLE – Promoting Gender Equality and Girls' Education for Children in Ethnic Minority areas of Viet Nam," organized by the UNESCO Office in Viet Nam, in collaboration with the Department of Teachers and Educational Administrators (DTEA) of the Ministry of Education and Training (MOET), the Ho Chi Minh Communist Youth Union (YU) and CJ Group, with representatives from the Committee for Ethnic Minority Affairs (CEMA), the five project provinces, Viet Nam Today Magazine and other UNESCO partners.
In Viet Nam, ethnic minorities are often disadvantaged compared to the majority of the population due to stereotypes and other cultural barriers. Despite considerable progress in universalizing basic education, ethnic minority children, especially girls, are more likely than other children to drop out. UNESCO's "We are ABLE" project was launched to address this issue. The slogan "Achieving Better Living and Education" creating the acronym "ABLE" emphasizes trust in the ability of ethnic minority children, especially girls, to overcome challenges.
"Education can be a true source of empowerment when it addresses the gender-based barriers, stigma and discrimination that hold learners back from fulfilling their right to education and future life, work and leadership opportunities. We must harness education's power to unlock the potential of learners in all of their diversity and transform educational institutions to achieve just, equal and inclusive societies," shared Ms Justine Sass, Chief of the Section of Education for Inclusion and Gender Equality of UNESCO Headquarters in Paris.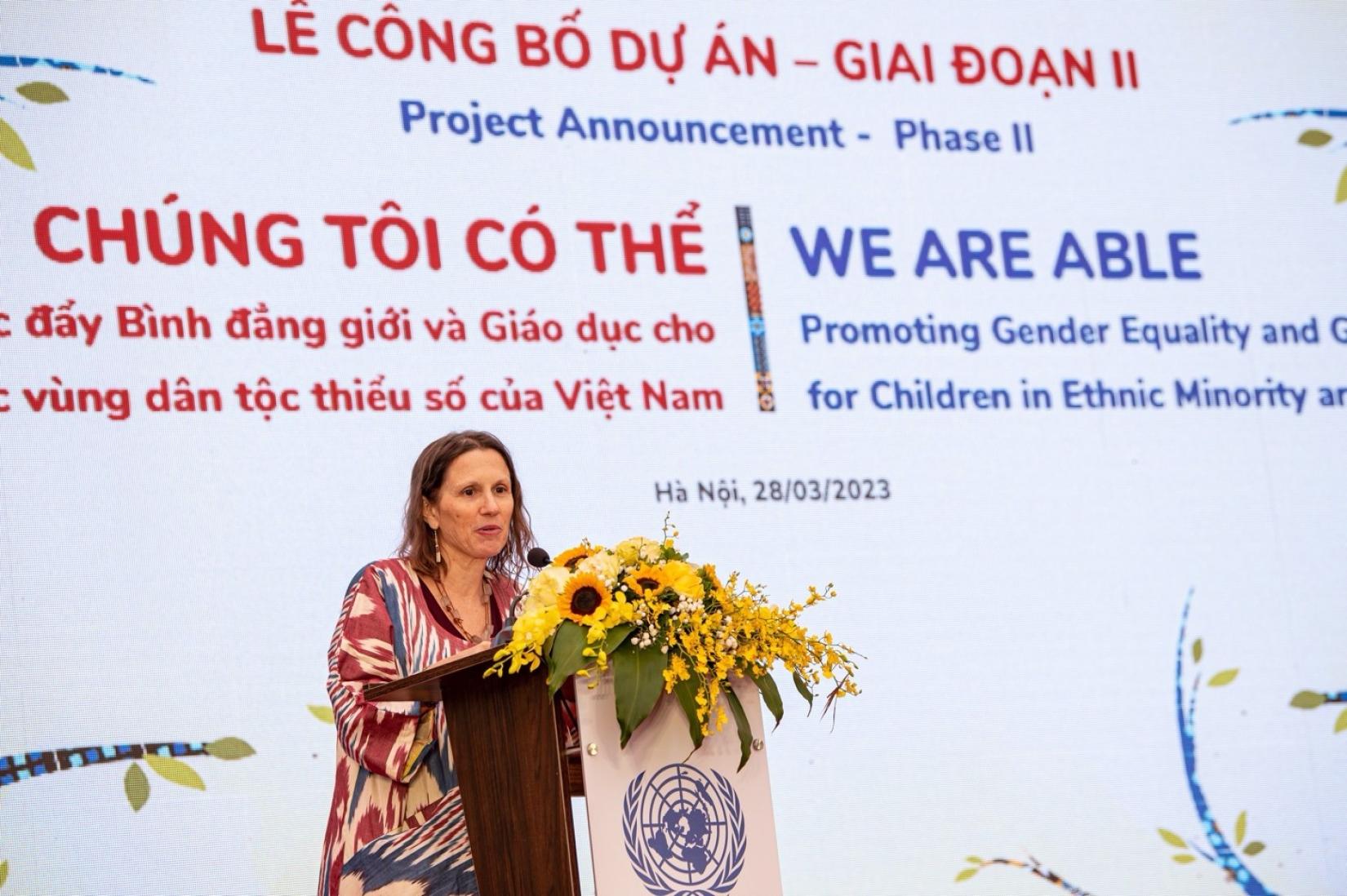 Phase I of the project "We are ABLE" was jointly implemented from 2019-2022 by UNESCO, MOET and CEMA, funded by the UNESCO Malala Fund for Girls' Right to Education with financial and technical support from CJ Group. It targeted 12 districts in three provinces: Ha Giang, Ninh Thuan, and Soc Trang. The project increased ethnic minority girls' access and retention in schools and ensured better employment opportunities for ethnic minority women.
Phase I of the project reached 16,296 students (including 8,021 girls). Across the 24 project schools, among ethnic minority learners, enrolment rates increased from 62% to 67%, drop-out rates dropped from 3.8% to 2.9%, and transition rates to upper-secondary rose from 69.7% to 76.7%. 2,136 teachers and educational administrators were trained on gender-responsive school counselling, and thousands more will be reached through the national roll-out of the online course. 120 ethnic minority women and youth were empowered with entrepreneurship training and continue to be supported through the Commune's Women's Union.
"The project helped us dare to share our dreams to our parents, teachers and society. It was also a great motivation for us to keep trying and going to school." – Ms Phan T. T., a student from Minh Tan secondary school, Ha Giang province.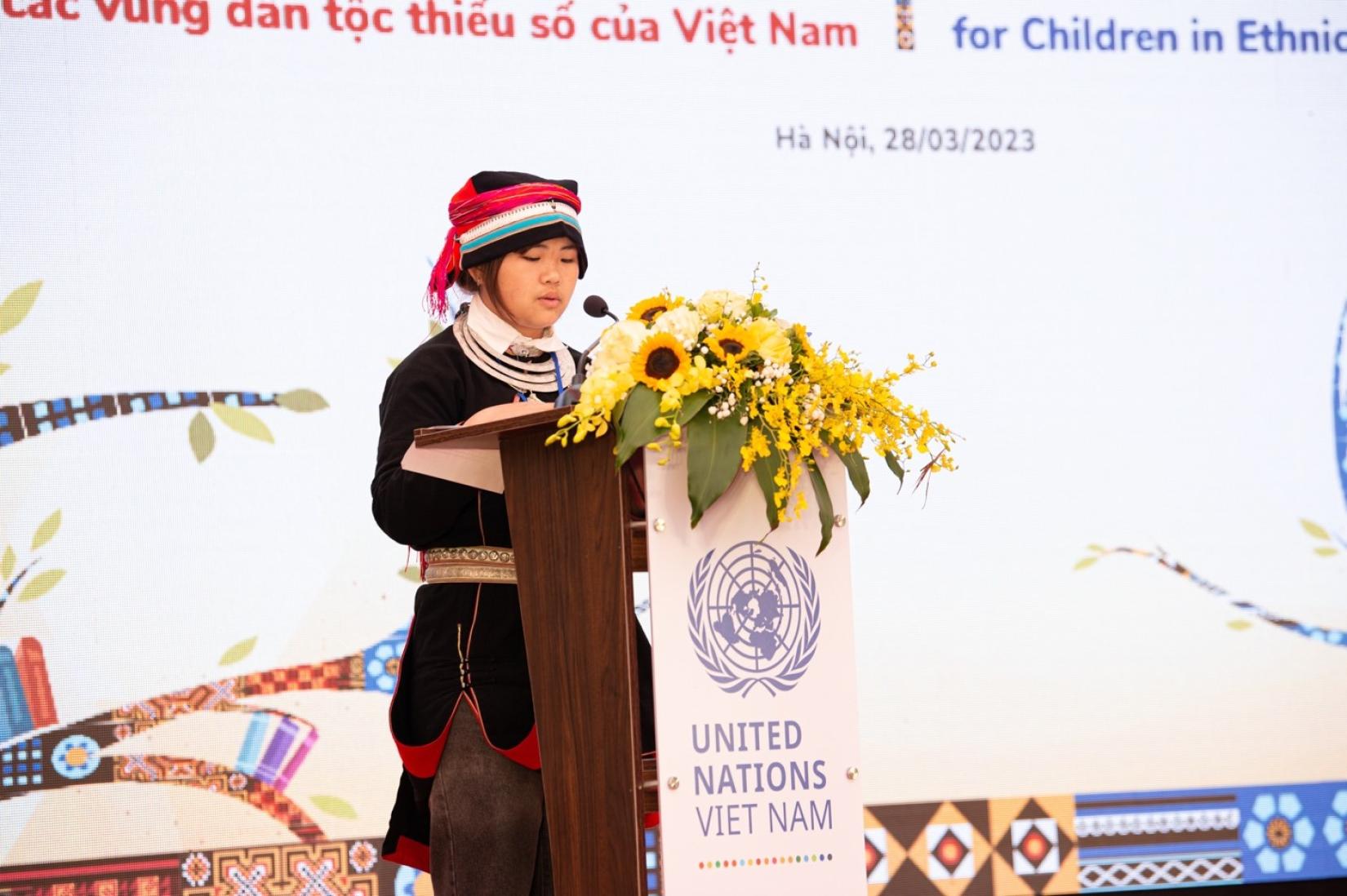 "In recent years, thanks to the "We are ABLE" project, our school has attracted children to go to school and no child had to drop out from school to get married, which is an achievement for the school. We now also have career orientation for students through site visits at communities." – Mr Nguyen Van Thai, Vice Principal, Minh Tan secondary school, Ha Giang province.
Phase II of the "We are ABLE" project will be rolled out in Cao Bang, Kon Tum and Ninh Thuan provinces, aiming to empower ethnic minority youth, especially girls and young women, in boarding secondary schools and neighbouring communities to overcome stereotypes and to voice and act on their dreams, hopes and aspirations in education. Phase II will build skills and platforms and create an enabling environment for student-led communication and advocacy and strengthen Government commitment to education for ethnic minority children and youth, especially girls.
MOET will continue to be a key partner to implement the project with UNESCO while YU, a new partner, will support student-led communication and advocacy and promote girls' education through community outreach, provincial and national fora. The Vietnamese Today magazine will reinforce communication activities.
"The project is expected to contribute to the Vietnamese Government's new 10-year Education Development Strategic Plan, the Strategy for Ethnic Minority Development, and the national commitment to the achievement of the Sustainable Development Goals, especially Goal 4 on Education and Goal 5 on gender equality," shared UNESCO Representative to Viet Nam, Mr Christian Manhart.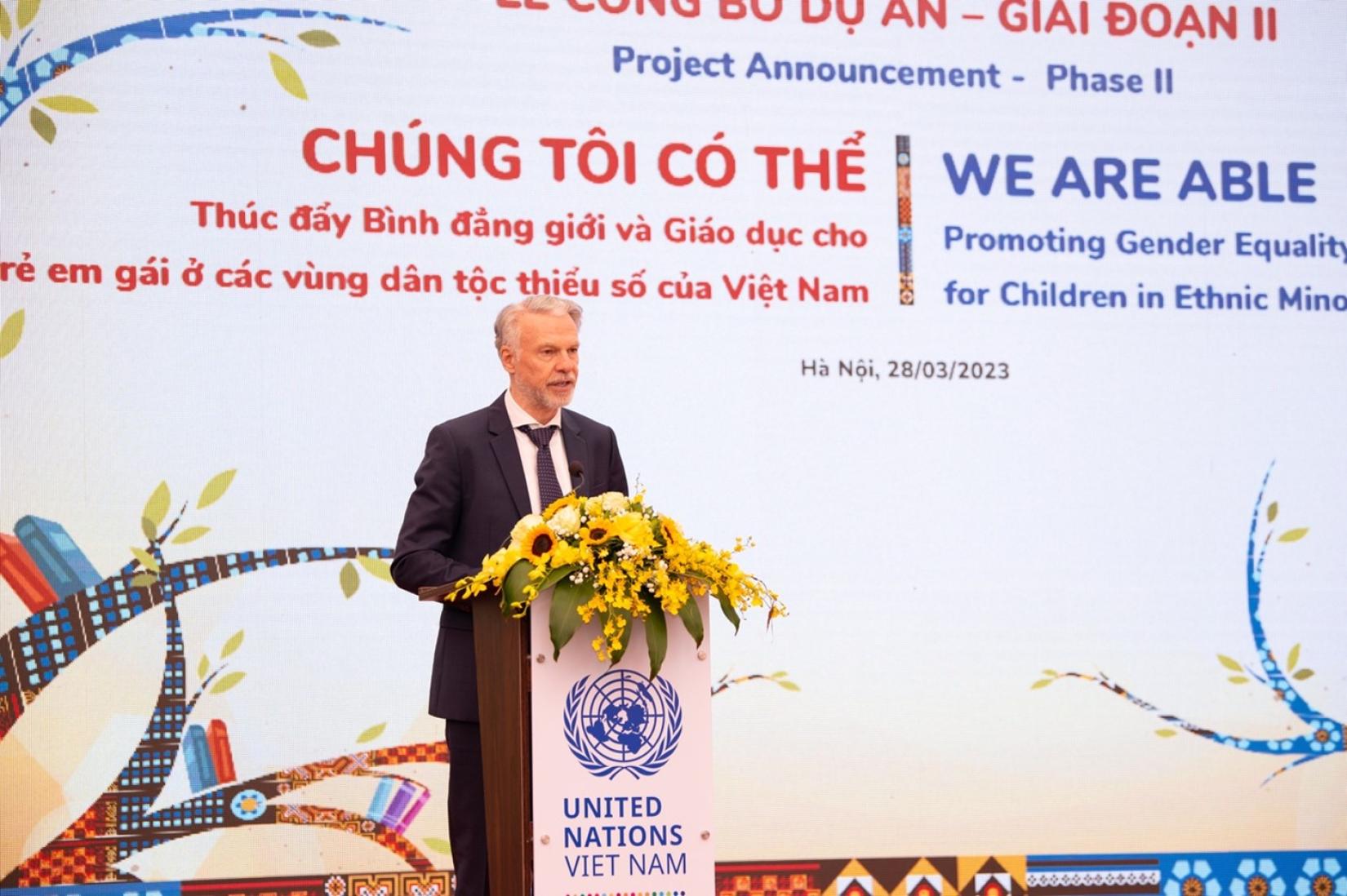 At the ceremony, Mr Vu Minh Duc, General Director of Departments of Teachers and Educational Administrators, MOET, and Ms Be Thi Hong Van, Director of the Project Management Unit for "Strengthening the effectiveness of development policies, programmes and poverty reduction initiatives for ethnic minority", CEMA, key partners of phase I, expressed their appreciation to CJ group, UNESCO and other project partners. Mr Duc also called on "District Offices of Education and Training in Cao Bang, Kon Tum and Ninh Thuan to strengthen the cooperation and their responsibilities to cooperate with UNESCO in implementing the second phase of the project to achieve its goals as was done in the first phase".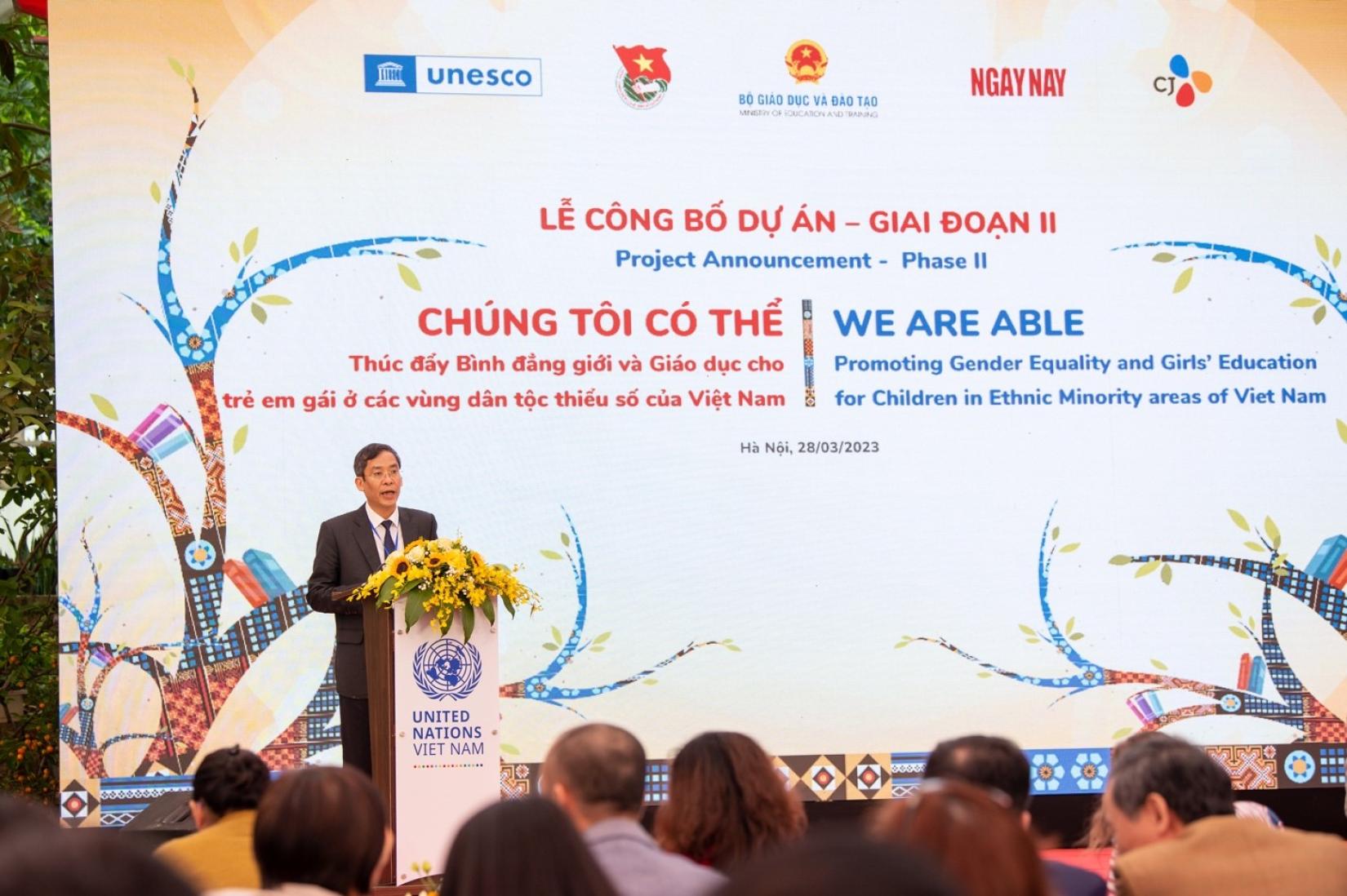 CJ Group remains the main donor for Phase II. "The first project was successful despite the COVID-19 situation because not only students but also teachers, parents, communities, and the Vietnamese Ministry of Education and Training participated passionately," shared Ms Hee Kyung Jo Min, Executive Vice President and Head of Corporate Social Responsibility of CJ CheilJedang. "We will also do our best to help more children be educated without discrimination and grow into talents who will lead Viet Nam's future based on CJ's sharing philosophy".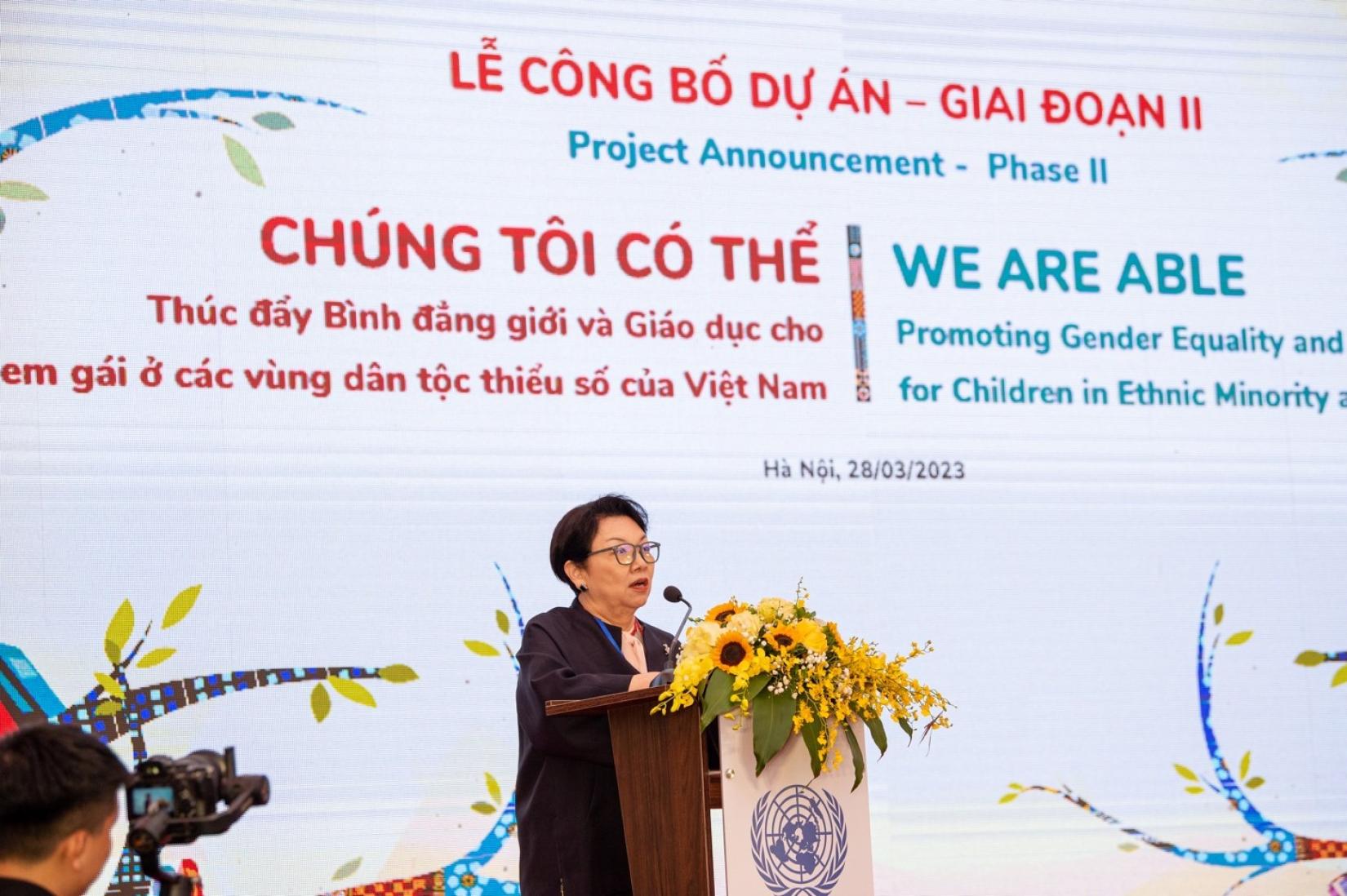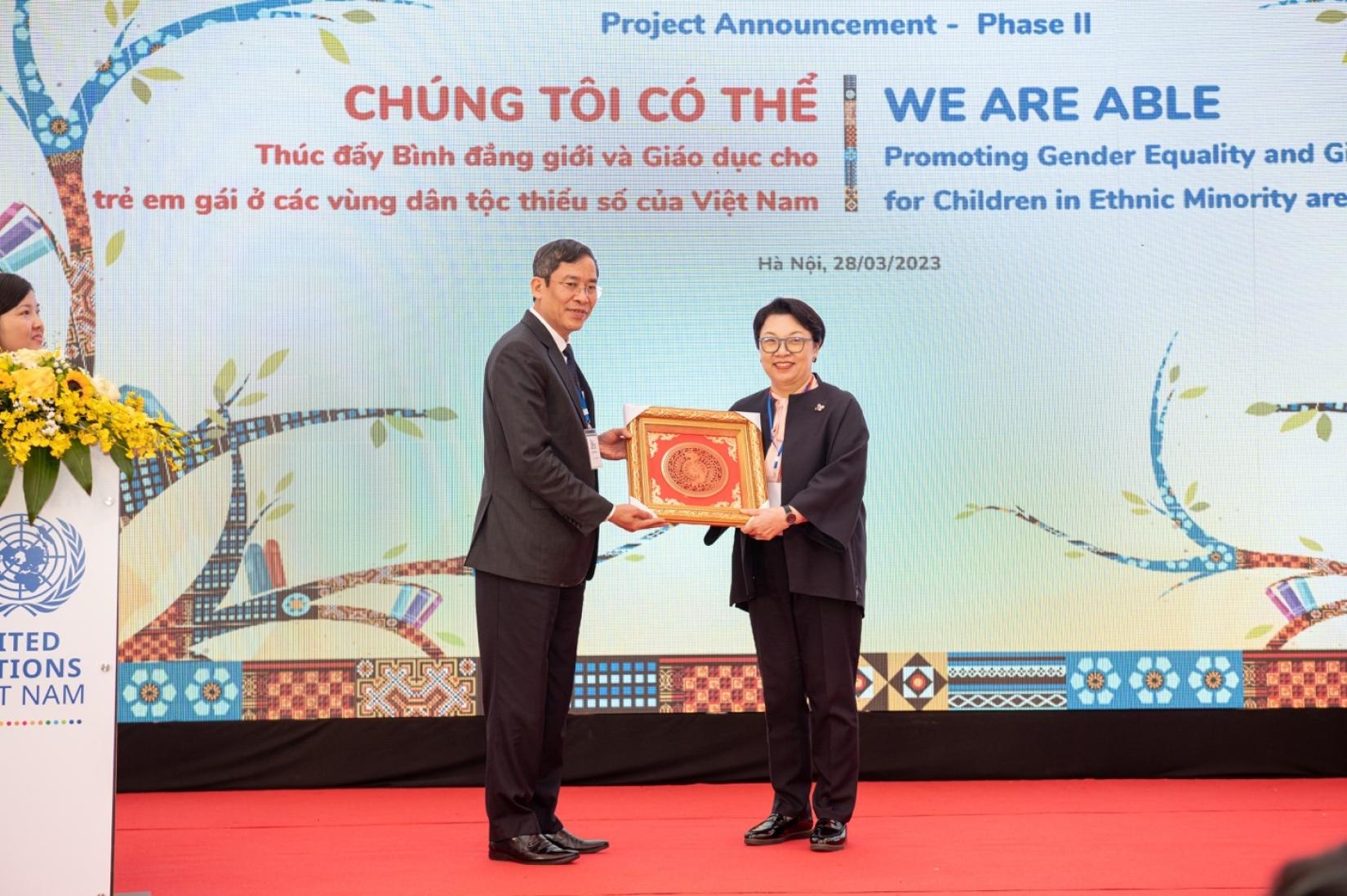 Popular singers from Korea and Viet Nam, Isaac Hong and Phuong My Chi, performed at the event as a call for public attention to support the project's efforts for ethnic minority girls' education.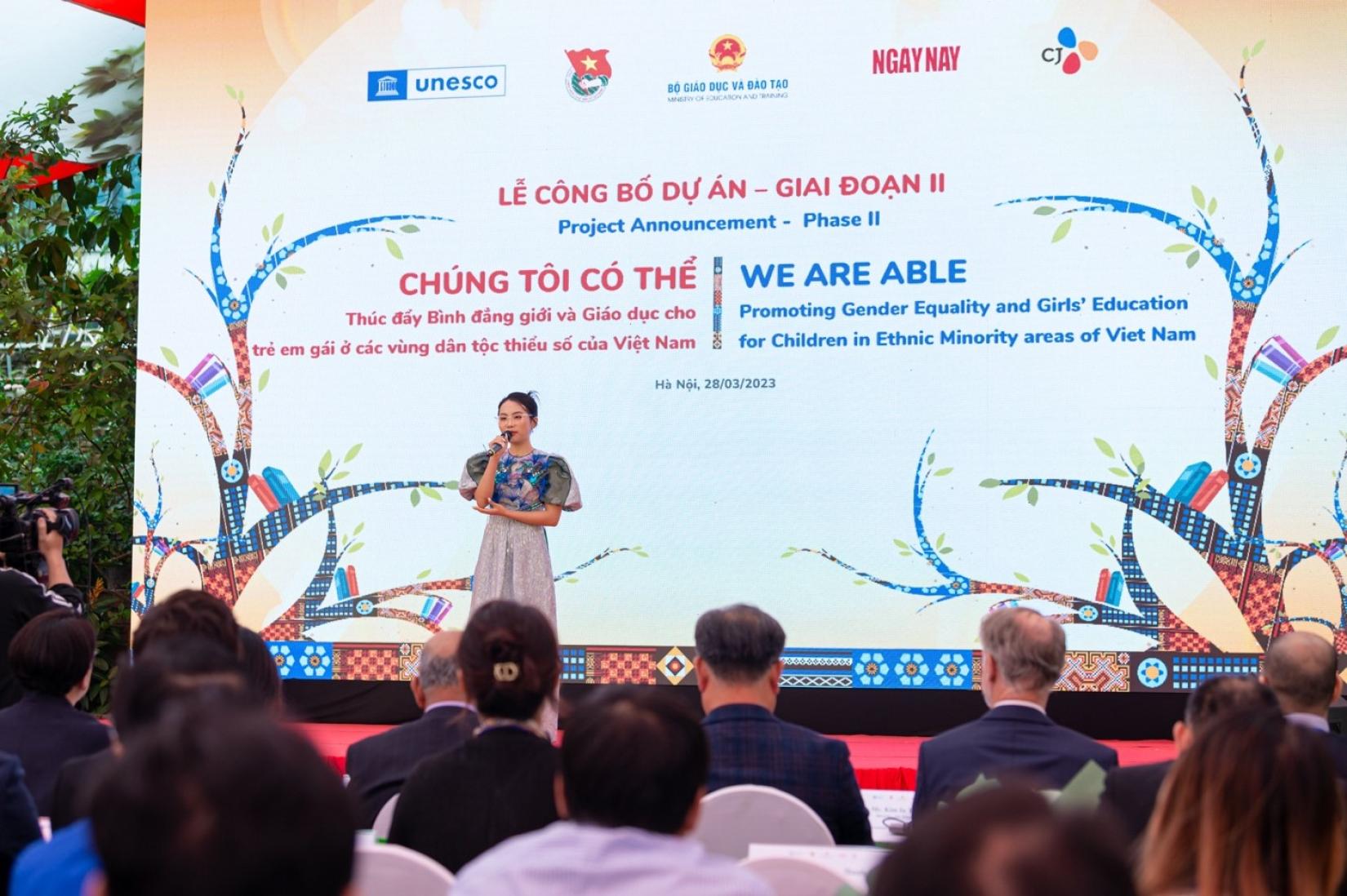 UNESCO and partners remain committed to the promotion of gender equality and girls' education in Viet Nam.
---
Media contact:
Ms Nguyen Thi Thao, Education Consultant
Email: tt.nguyen@unesco.org
Tel: 0357438194
UN entities involved in this initiative
UNESCO
United Nations Educational, Scientific and Cultural Organization