Press Release
Solutions to support women-owned businesses to participate in the supply chains
12 October 2023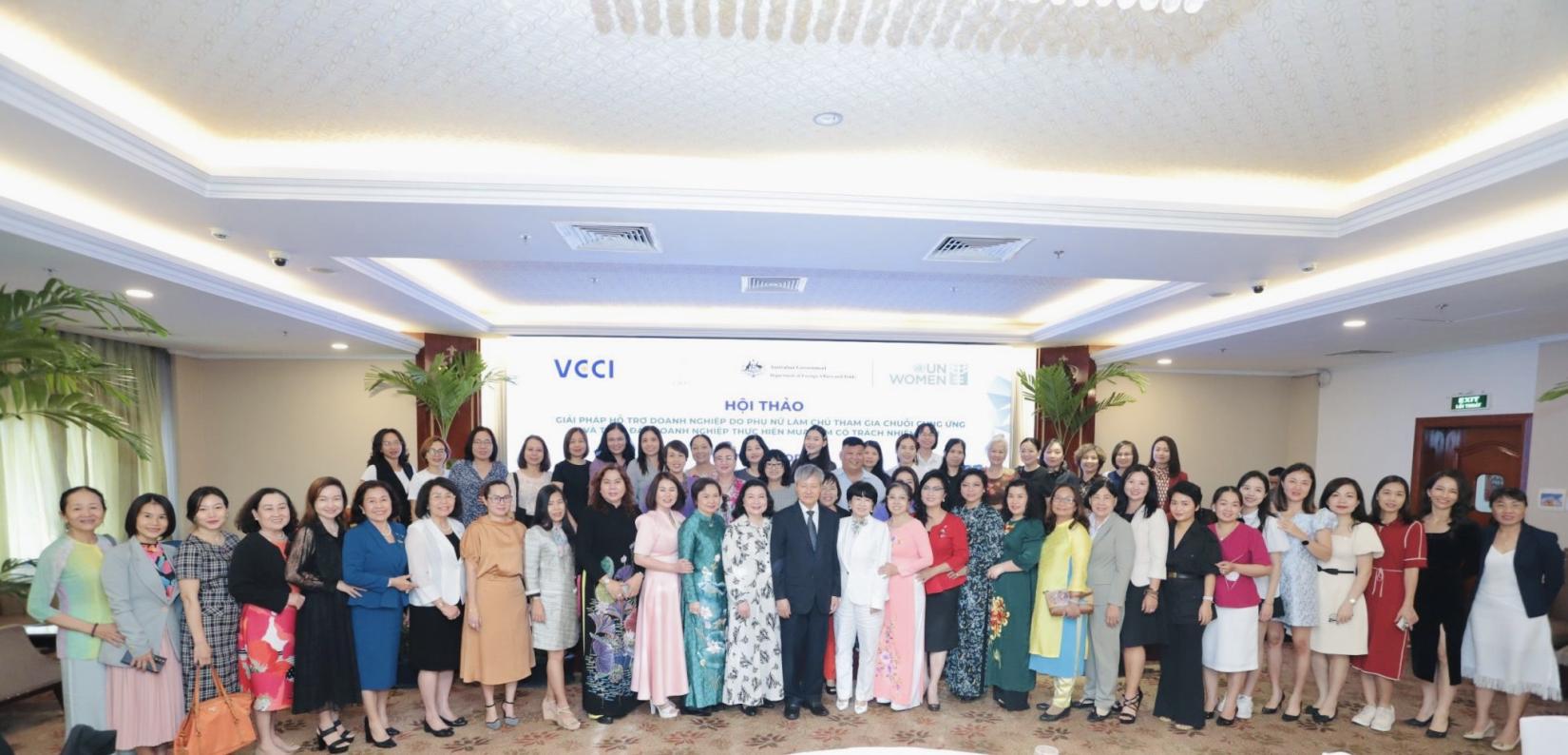 Ho Chi Minh City, October 12, 2023 – Today, over 100 representatives from various enterprises, business associations, government ministries, and provincial departments gathered to deliberate on strategies aimed at bolstering women-owned businesses' integration into supply chains and advancing gender equality principles within procurement processes.
The workshop titled "Empowering Women-Owned Businesses and Fostering Gender-Responsive Practices in Supply Chains" was jointly organized by the Viet Nam Women Entrepreneurs Council, the Viet Nam Chamber of Commerce and Industry (VCCI), the United Nations Entity for Gender Equality and the Empowerment of Women (UN Women), and the Joint Stock Commercial Bank for Investment and Development of Viet Nam (BIDV), with invaluable support from the Australian Government.
In Viet Nam, women now represent over 20% of small and medium-sized business owners, with 51% of Viet Namese enterprises having women among their ownership ranks—a higher proportion compared to other countries. However, women-owned businesses predominantly occupy lower-tier positions within various industries' supply chains, often struggling to meet the procurement requirements set by larger corporations.
In his presentation, Mr. Nguyen Hoa Cuong, Vice Director, the Central Institute for Economic Management (CIEM), under the Ministry of Planning and Investment, has identified several key factors contributing to this issue. These include:
Low competitiveness, with many women engaged in lower-skilled roles.
Limited enterprise administration capacity and restricted access to information and technology.
The "dual responsibility" that many women bear, dividing their time between family and business.
A lack of support networks tailored to women entrepreneurs.
An insufficient focus on gender-balanced intervention policies by enterprise leaders, resulting in slow progress.
During the workshop, Ms. Caroline Nyamayemobe, Acting Head of Office, UN Women Viet Nam, emphasized, "Evidence shows that countries with greater gender equality experience faster economic growth and increased competitiveness. Prioritizing procurement from women-owned and gender-responsive businesses is a catalyst for women's economic empowerment and gender equality in Viet Nam. Moreover, this approach enhances the prestige and competitive edge of enterprises during the integration process. It is a mutually beneficial and astute choice."
The workshop offered a platform for businesses to gain insights into policies, programs, initiatives, and practical solutions that support the participation of women-owned businesses in domestic and international supply chains. Participants shared their hands-on experiences in advancing gender equality within business operations, particularly in procurement activities.
In a notable demonstration of commitment to women's empowerment, 24 Vietnamese business leaders signed a CEO's Statement of Support for the Women's Empowerment Principles (WEPs). This gesture underscores their dedication to empowering women in the workplace, in the market, and within the community. With these new signatories, the total number of Vietnamese businesses endorsing and supporting the WEPs now stands at 174.
This workshop is part of a series of activities commemorating Viet Nam Entrepreneurs' Day on October 13 and Viet Nam Women's Day on October 20, organized by the Viet Nam Chamber of Commerce and Industry and UN Women.
For media inquiries, please contact:
Hoang Bich Thao, UN Women Viet Nam
Email: hoang.thao@unwomen.org
Hoang Bich Thao
UN Women
Communications and Advocacy Analyst
UN entities involved in this initiative
UN Women
United Nations Entity for Gender Equality and the Empowerment of Women