Viet Nam: Floods, Landslides and Storms Flash Update No. 5 (As of 15 November 2020)
Tropical Cyclone VAMCO (Storm No. 13) made landfall on 15 November as a Category 1 storm over Ha Thinh, Quang Binh, Quang Tri and Thua Thien Hue Provinces with wind speeds of up to 100 kph. According to the National Hydrometeorological Forecast Center (NHFC) as of 15 November it is moving inland in a north-west direction toward the Laos border, and is forecast to reduce intensity to tropical depression.
Between the 15 and 16 November, the province of Thanh Hoa south to Thua Thien Hue are predicted to receive heavy to very heavy rain, with between 100mm and 200mm predicted.
Strong winds and waves of between 3 and 5 metres height are Ha Tinh to Da Nang. In the coastal provinces, storm surges of up
to one metre are forecast resulting in inundation in low lying coastal areas, estuaries and lagoons in Quang Binh, Quang Tri and Thua Thien Hue Provinces.
The Viet Nam Disaster Management Authority (VNDMA), provincial and local authorities are implementing the Prime Minister's directive to enhance prevention and preparedness actions, including to safely harbor and anchor ships and aquaculture facilities; evacuate all people at risk; and pay necessary attention to environmental sanitation. Electricity has been cut off in 283 communes in six affected provinces. The airports in Da Nang, Chu Lai (Quang Nam), Phu Bai (Thua Thien-Hue), Dong Hoi (Quang Binh), and Vinh (Nghe An) are closed as a precaution.
Those provinces affected by TC VAMCO are the same areas already bearing the impact of multiple storms and floods that have struck Viet Nam since the beginning of October. This latest storm will exacerbate the situation further and increase the vulnerabilities and needs of affected communities.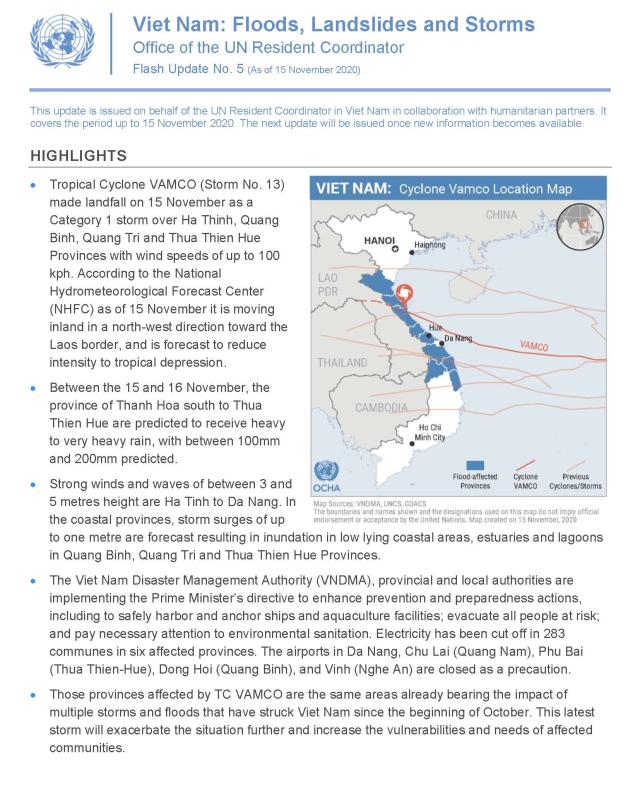 Goals we are supporting through this initiative