Speech
Handover of the dignity kits for women at risk of violence under COVID-19 emergency context
Some 5,100 Dignity Kits are distributed to women and girls in Bac Giang, Bac Ninh and HCMC, the most affected locations by the current 4th wave of COVID 19
Honorable Mr. Nguyen Xuan Dinh, Vice Chairman of the Vietnam Farmers' Union;
Representatives of the Central Committee of the Viet Nam Farmers' Union;
Mr. Cho Han-Deog, Country Director of the Korea International Cooperation Agency – KOICA;
Media colleagues;
Good morning,
On behalf of UNFPA, I am much honored to be here today, to hand over UNFPA Dignity Kits to the Central Committee of the Viet Nam Farmers' Union to support women in the provinces of Bac Giang and Bac Ninh, and Ho Chi Minh City, which are the most affected locations by the current 4th wave of COVID 19.
UNFPA Vietnam highly appreciates the partnerships with the Korea International Cooperation Agency (KOICA), the Government of Australia and the Government of Japan as well as the commitment of the leaders of the Central Committee of the Viet Nam Farmers' Union for joining hands with us to urgently support women and girls at risk of gender-based violence as a result of COVID 19.
Dear participants,
Every day we follow the reports of the Ministry of Health about the new cases of COVID-19 across Vietnam and the measures to contain the spread of COVID-19. We learnt that more and more new cases of COVID-19 have been reported from Bac Giang, Bac Ninh, and HCMC, and most of the affected populations are female workers. We have trust in the Government of Vietnam and the provincial authorities for successfully controlling the 4th outbreak very soon, as done in the past.
However, the COVID-19 pandemic has heavily affected many countries in the world, including Viet Nam. The pandemic has also exacerbated existing inequalities and disproportionately affected vulnerable populations. The social and family pressures as a result of COVID 19 containment measures, loss of jobs, uncertainties and reduced household income can make women more vulnerable to domestic violence. During the two months of the social-distancing period from 1 April to 31 May 2020, the number of calls for help in UNFPA-supported help-lines and hot-lines increased twice compared to the same period in the previous year. This clearly demonstrates the vulnerability of women and girls to domestic violence as a negative consequence of COVID-19.
The UNFPA-supported National Study on Violence Against Women, which was conducted in the pre COVID-19 year of 2019, already showed that 62.9% of ever-married women have experienced at least one form of physical, sexual and/or emotional violence in their lifetime by their husbands and intimate partners, and 90.4% of these women never sought any help from formal services or authorities. Violence by a husband is extremely common in Viet Nam, and it is important to emphasize that violence against women affects not only individual victims and their families, but also Vietnam's economic development. The overall productivity loss caused by violence against women was estimated at 1.8% of GDP in 2018, according to the National Study. And therefore, it is important to look at violence against women and girls as a development issue.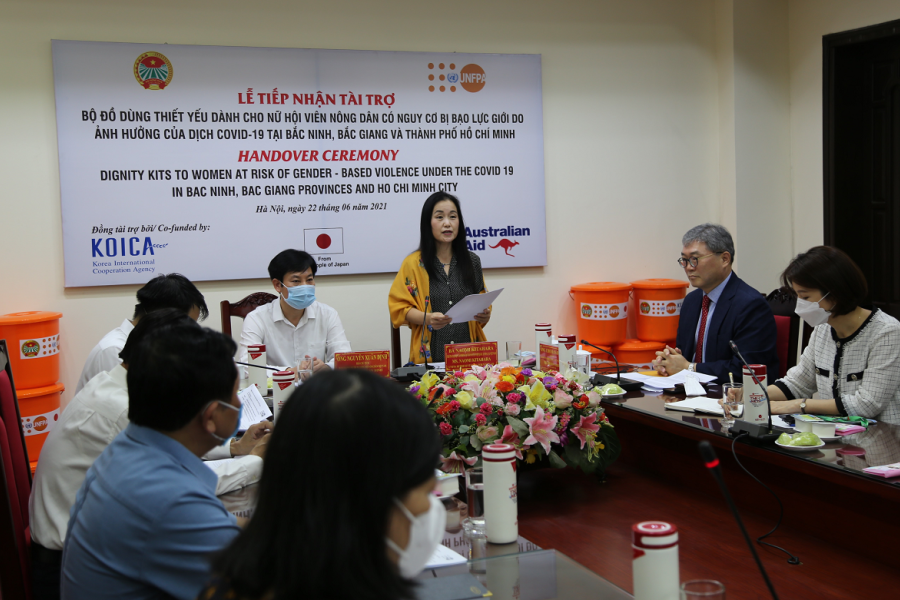 Distinguished guests,
The Dignity Kit is a signature product of UNFPA's comprehensive package of humanitarian assistance to safeguard sexual and reproductive health and rights of women and girls, prevent and respond to gender-based violence, and protect the dignity of women and girls who are adversely affected by a crisis. Preserving dignity is essential to maintaining women's self-esteem and confidence, which is crucial in stressful and potentially overwhelming humanitarian situations.
Today, about 5,100 Dignity Kits are handed over to the Viet Nam Farmer Union, who will then take charge of the distribution to women and girls in Bac Giang (2,397 kits), Bac Ninh (1,438 kits), and HCM City (1,259 kits). The Dignity Kit comprises the basic items that women and girls need to protect themselves and maintain hygiene, respect, and dignity in the face of crisis.
In addition to the essential items to meet the special need of women in humanitarian settings, dignity kits include information on gender-based violence, such as what it is, and how to deal with it, and it also includes instructions to link women to available support services. Korean Cooperation (KOICA) has been partnering with UNFPA in the past years to set up a model of such a service provision in Quang Ninh province, as well as the hotline services for the entire country.
We must ensure that all women and children in Viet Nam, including those most vulnerable such as in COVID-19 context, live a life free of violence, and support for them should be prioritized as part of the COVID-19 response. Gender-based violence is a development issue, and prevention and effective response to gender-based violence is about making sure that everyone is part of the country's sustainable development process, leaving no one behind.
Once again, I would like to extend our sincere appreciation to KOICA, the Government of Australia and the Government of Japan for providing funding to help women and girls at risk of violence, and the Viet Nam Farmer's Union for its strong commitment for the delivery of our dignity kits down to communities.
Thank you.
UN entities involved in this initiative
UNFPA
United Nations Population Fund