Speech
Award ceremony for communications initiatives themed "Men Take Action – Stop violence against women"
"Zero gender-based violence and harmful practices to women and girls" has been one of the top priorities of UNFPA
Ms. Nguyen Van Anh, Chair of the Center for Studies and Applied Sciences in Gender – Family – Women and Adolescents (CSAGA);
Ms. Tran Bich Loan, Vice Director, Gender Equality Department, Ministry of Labor, Invalids and Social Affairs;
Ms. Pham Thu Huong, Vice Head, Social Affairs Department, the Vietnam Farmers' Union;
Ms. Than Thi Thien Huong, Gender Specialist of the Department of Foreign Affairs and Trade (DFAT);
Participants to the Contest "Men Take Action to Stop Violence against Women"; and
Media colleagues
Good afternoon,
Today we are gathered here in the Green One UN House to celebrate the joint efforts towards preventing and putting an end to violence against women and girls in Vietnam, and inspiring more men to take actions to curb gender-based violence.
For UNFPA, "Zero gender-based violence and harmful practices to women and girls" has been one of our top priorities, and we have been deeply concerned with the current situation of gender-based violence in Viet Nam.
In 2020, UNFPA, in partnership with MOLISA, GSO, and the Government of Australia, released the findings of the Second National Study on Violence against Women in Viet Nam, entitled "Journey for Change." The study shows that nearly 2 out of 3 women in Vietnam (62.9%) experienced at least one form of violence (physical, sexual, emotional, and economic violence and controlling behaviors) in their life time, and 13.3 per cent of women experienced sexual violence by a husband during their lifetime. One in ten women continue to experience sexual violence by an abuser other than their husband since the age of 15.
Gender-based violence affects women and their families considerably. According to the national study, victims of violence have higher risks of miscarriage, stillbirths, and abortion, and their children's wellbeing and daily lives are also labored. Victims experience direct physical injuries, and there are also impacts on other parts of their lives such as mental health and income earning potentials. The national study estimated that women who experienced violence from husbands or partners were 3 times more likely to self-report many symptoms of mental distress (7%), compared with women who had not experienced any violence (2%). We must underline that gender-based violence also has a negative impact on the country's economy as well. The national study showed that gender-based violence costed Viet Nam 1.81% of GDP in 2018.
In an effort to eliminate violence against women and girls, we as UNFPA think it essential that we join hands with men and boys, and it is our strategic choice to promote the work of men and boys who are committed to ending gender-based violence. In this context, UNFPA partnered with CSAGA to organize the contest "Men Take Action – Stop Violence against Women," for men and boys playing a crucial role in challenging socio-cultural context of Viet Nam when it comes to gender-based violence, questioning the effectiveness of masculinity, and taking a personal responsibility to change socio-cultural norms. Men and boys are capable of preventing violence against women by not personally engaging in violence, intervening against the violence committed by other men, and addressing the root cause of gender-based violence.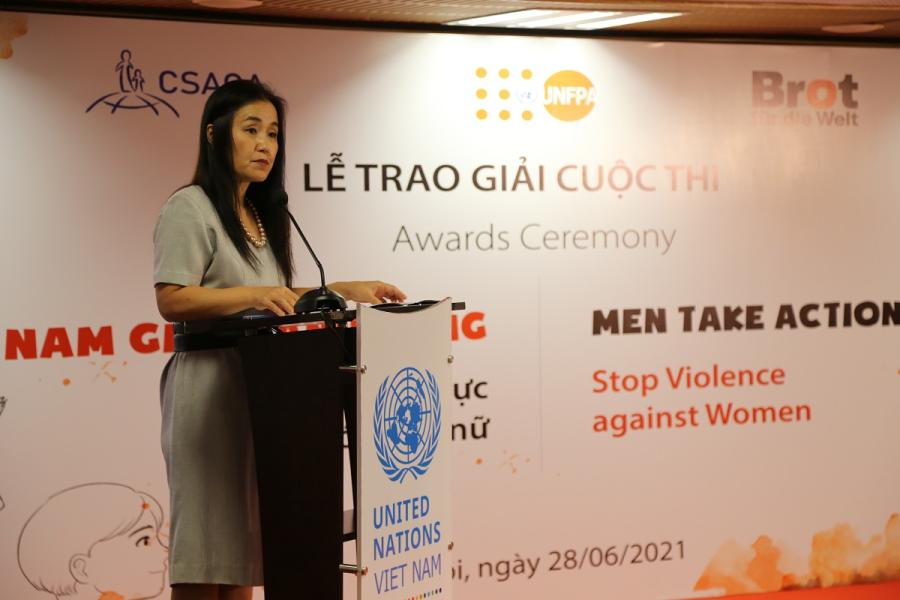 Dear participants to the contest,
I am delighted to learn that the contest has received more than 100 entries. There are videos, posters, photo stories, and infographics. All of them carry strong messages about what gender-based violence is, and why it must be stopped. Many also deliver the right message that we will not be able to stop violence against women and girls successfully without the involvement of men and boys. So, while we are giving the awards of the contest today, I would like to say that everyone who joined this contest is the winners. I was personally so impressed with such strong communication and advocacy skills of young people in the campaign to achieve "Zero gender-based violence and harmful practices to women and girls". The 2019 National Study shows the positive change in young people toward gender equality and violence against women. UNFPA looks forward to keeping this momentum created, and in Vietnam's development process, we are not leaving women and girls behind due to gender-based violence.
Dear local media representatives,
I would like to take this opportunity to call on Vietnamese reporters and editors to join me and UNFPA Vietnam to raise public awareness that We must take an action now to end violence against women and girls. Men and boys should be central part of the solution!
I must highlight the important role that the media play in changing Vietnam's socio-cultural practice of silence when it comes to gender-based violence. Violence against women is still hidden in society, as almost half of women never told any anyone about violence, and 90.4% did not seek help from formal services or authorities, according to the 2019 national study.
We need to break the silence, so that survivors of gender-based violence can speak up, and seek help and services. The media needs to explain that violence against women has serious consequences on the social and economic growth of the country. No matter where violence happens, in what forms, or who it affects, it must be stopped.
And without actions from men and boys, we cannot create a world where both men and women, and boys and girls, can enjoy a life free from violence. Men and boys are an important part of the solution to end gender-based violence.
Thank you very much for your attention.
UN entities involved in this initiative
UNFPA
United Nations Population Fund