Press Release
Enhancing the quality assurance quality control programme of residue testing laboratories
22 September 2021
The United Nations Industrial Development Organization (UNIDO) in collaboration with the Ministry of Agriculture and Rural Development of Vietnam (MARD) launched the training programme "Enhancing the quality assurance quality control programme of residue testing laboratories".
The training programme was organized under the framework of the on-going Vietnam Project entitled "Increase quality and standards compliance capacity of mango value chain in Mekong River Delta", a component of the Global Quality and Standards Programme which is funded by the Swiss State Secretariat for Economic Affairs (SECO).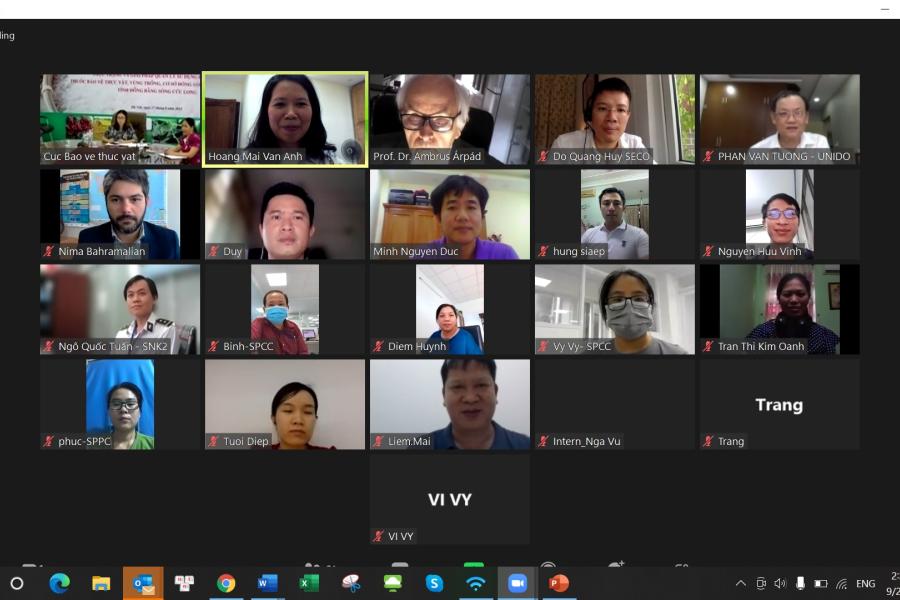 Opening the event, Ms. Nguyen Thi Thu Huong – Deputy Director General of Plant Protection Department said "We highly appreciate the technical assistance of UNIDO and finance support of SECO. The training program is designed for 5 selected laboratories of the Ministry of Agriculture and Rural Development and Ministry of Science and Technology. It's very practical and useful for laboratory staffs. Its objective is to upgrade the internal quality control procedures of selected laboratories".
Mr. Nima Bahramlian, UNIDO project manager added "UNIDO provides technical assistance to ensure that before products enter global markets they are adequately tested according to international standards and conformity assessment requirements. Countries are required to operate laboratories, which are able to test products and samples for compliance to international standards".
Mr. Do Quang Huy, National Program Officer of SECO said: "Vietnam is one of the countries with the largest trade openness. Hopefully this project will partly solve the problem of quality and trade barriers to penetrate the large quality market. Quality control systems are very important. To help middle-income countries effectively participate in the market, building an international accreditation quality control system is one of the priorities of the Swiss government to help Vietnam participate in the system, based on fair trade rules. This quality standard project is one of SECO's key projects for Vietnam. The issue of quality will accompany the issue of sustainable agricultural development, associated with the story of digital transformation in agriculture."
The training program which will end by December 2021 concludes a sery of sessions covering different topics: internal quality control, measurement results determination and interpretation vs MRL, statistical evaluation, sampling principles, mornitoring programme, pre-export testing and control, etc. ….  It will contribute to developing the local capacities in product testing, in order to provide services to local testers, producers and exporters according to international best practices, and also to enhance consumer protection.
Enhancing the quality assurance quality control programme of residue testing laboratories
Ms. Thao LE is the Country Representative of UNIDO Vietnam Office. Ms. Thao has been working for nearly twenty years in the area of industrial and business development at both grass-root practical and policy levels. She has been working for UNIDO Viet Nam Country Office since 2008 as National Programme Officer and then Country Representative, coordinating and monitoring UNIDO projects and programmes in various areas including private sector/SME development, business environment, industrial and trade competitiveness, energy and environment, eco-industrial park, green industry, agro-processing and value chains, etc.. Prior joining UNIDO, she managed her own business on investment consulting and export/trade promotion for manufacturing sub-sectors.
During her work at UNIDO Viet Nam, Ms. Thao has also involved in researches and policy advice to the Government of Viet Nam on Industrial Competitiveness, Investment Promotion, Green Industry, Science Technology and Innovation.
She got the Executive MBA at the Shidler College of Business, University of Hawaii at Manoa, USA (in 2004-2006). She graduated from Hanoi Foreign Trade University on External Economics.
UN entities involved in this initiative
UNIDO
United Nations Industrial Development Organization