Story
Harm reduction needed for people who use stimulant drugs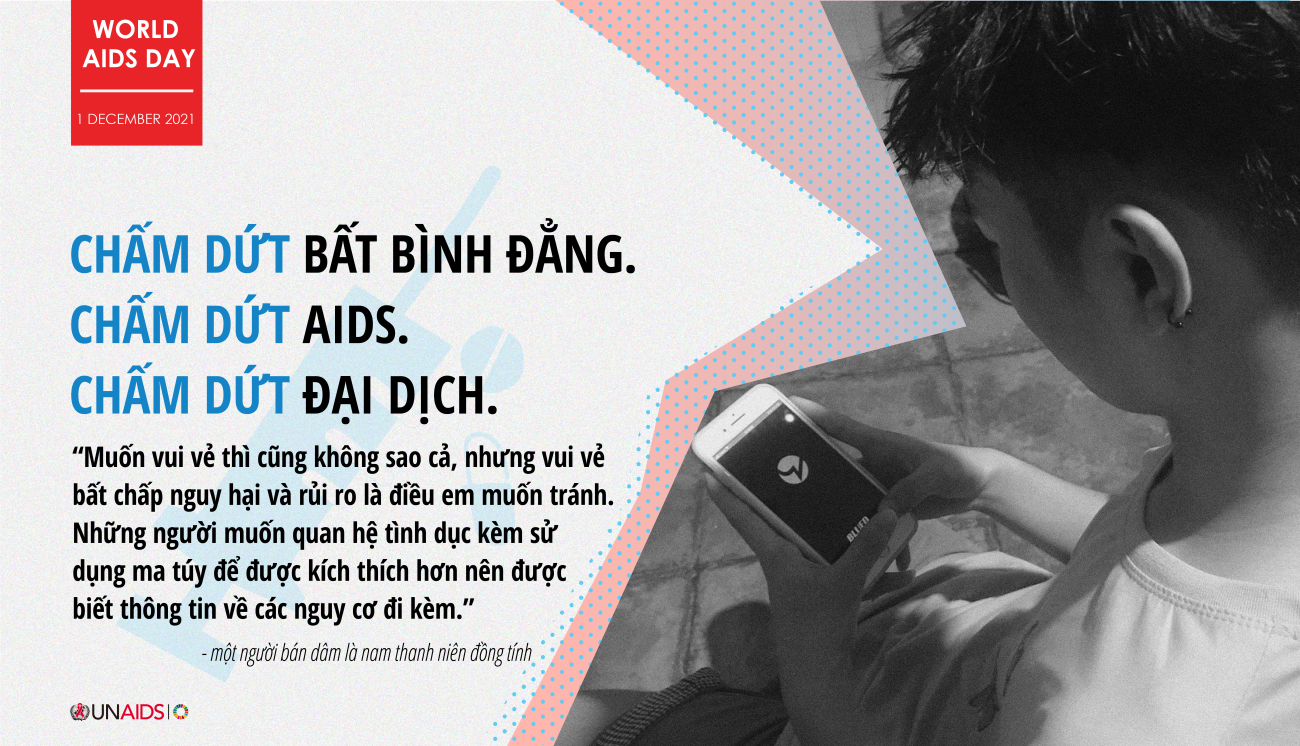 The 17-year-old teenager experienced chemsex for the very first time as a male sex worker. He was left in shock and pain.
Phong (not his real name) moved from Tien Giang province to Long An province for pursuing his own life. Being uninterested in studying, he dropped out of junior high school and started working at street-side food stalls at the age of 14. Gradually, he realized himself sexually attracted to males. Since the outbreak of COVID-19 in 2020, he started selling sex and using social media to accept clients' appointments days and nights.  
Once, he got a one-on-one sex service appointment and went to the venue suggested by the client. Unexpectedly, four other friends of this young client showed up in the room. In the first place, he tried to leave but they pulled his collar fiercely and threatened to beat him. The group used stimulant drugs to reduce inhibitions and intensify pleasure. Having zero prior knowledge of substance use for sex, Phong was forced to take the drugs by smoking under their coercion. 
Chemsex (commonly known as high-fun) is intentional sex under the influence of various psychoactive drugs. It is on the rise among gay men and other men who have sex with men, which may involve unprotected sexual activity with multiple partners. For these reasons, it is associated with increased rates of sexually transmitted infections (STIs), including HIV and hepatitis. 
Sex workers, whether male, female or transgender, may be coerced into consuming stimulant drugs with their clients, increasing the risk of unprotected sex and sexual violence. 
Under the effect of the stimulant drugs, Phong could barely know whether they wore condoms properly or not before sex. Phong took the receptive position ("bottom") during the unprotected anal sex. Stimulant drug use facilitated longer penetration and more intense acts. The prolonged and intense sexual session time causes him tremendous pain and bleeding. 
"Having fun is not problematic but having fun regardless of the harm and risk is something I want to avoid. People who want to have sex with the use of stimulant drugs should have information about its risks." said Phong, "Honestly, I was so scared, I did not know how to protect myself under such circumstances."
Entangled by the confusion and worries about the side effect of stimulant drugs, Phong mustered courage and sought help from the local sex worker self-help group for advice. His anus tore and bled. He felt dizzy, headache, and exhausted after smoking methamphetamine (also known as "crystal meth"). After a 10-day medical treatment and rest, he finally recovers and returns to normal life. 
Since then, the trauma kept him away from alcohol and drug use when having sex. Phong has taken measures to protect himself, such as selecting the venue for having sex, instead of going to the place suggested by clients. He also took PrEP (pre-exposure prophylaxis) regularly to protect himself from HIV infection, even when his clients reject to use condoms in the future. 
Inconsistent condom use by people who use stimulant drugs has been identified as a prime means of contracting STIs, including HIV, mainly as a result of the concurrent use of stimulant drugs with frequent sexual activity of long duration with multiple partners or in groups. In addition, sharing of substance-using equipment such as needles and syringes, pipes, straws can elevate risks of transmitting HIV, Hepatitis A, and C, COVID-19, and tuberculosis.
The safety awareness of chemsex among men who have sex with men who engage in chemsex remains low. People who use stimulant drugs for sex need access to health protection commodities as well as sexual and reproductive health information and services, including STI screening, diagnosis and treatment, family planning, and screening and treatment for the cervix and/ or rectum. The notions of self-care and care for others are important in avoiding unprotected sex and violence during chemsex. 
"Shame, stigma, and punitive attitude towards drug use hinder people from seeking harm reduction information and professional help. Health care services and information with non-judgemental attitude before and after a chemsex event are key to reducing the risk of health-related implications of chemsex," said Dr. Maria Elena Filio Borromeo, UNAIDS Country Director, UNAIDS in Viet Nam Country Director. 
If you would like to know HIV harm reduction checklists for people who use stimulant drugs, please refer to the Technical Guide by UNODC (P.55-58). 
If you would like to know more about HIV harm reduction checklists for people who use stimulant drugs, you may visit the "HighFun Safe" Facebook page for more information in Vietnamese. 
Reference: 
European Chemsex Forum (2018). A call to action for effective responses to problematic chemsex. Position paper from organizers and participants of the 2nd European Chemsex Forum, Berlin, 22–24 March 2018. Access from https://www.ilga-europe.org/sites/default/files/Final%20position%20paper.pdf
UNAIDS (2019). Health, rights, and drugs harm reduction, decriminalization and zero Discrimination for people who use drugs. Accessed from https://www.unaids.org/sites/default/files/media_asset/JC2954_UNAIDS_drugs_report_2019_en.pdf 
UNAIDS, UNODC & WHO (2019). HIV Prevention, Treatment, Care and Support for People Who Use Stimulant Drugs - TECHNICAL GUIDE. Access from ​​
https://www.unodc.org/documents/hiv-aids/publications/People_who_use_drugs/19-04568_HIV_Prevention_Guide_ebook.pdf 
UN entities involved in this initiative
UNAIDS
Joint United Nations Programme on HIV/AIDS
UNFPA
United Nations Population Fund
UNICEF
United Nations Children's Fund