Story
Unreachable social protection for sex workers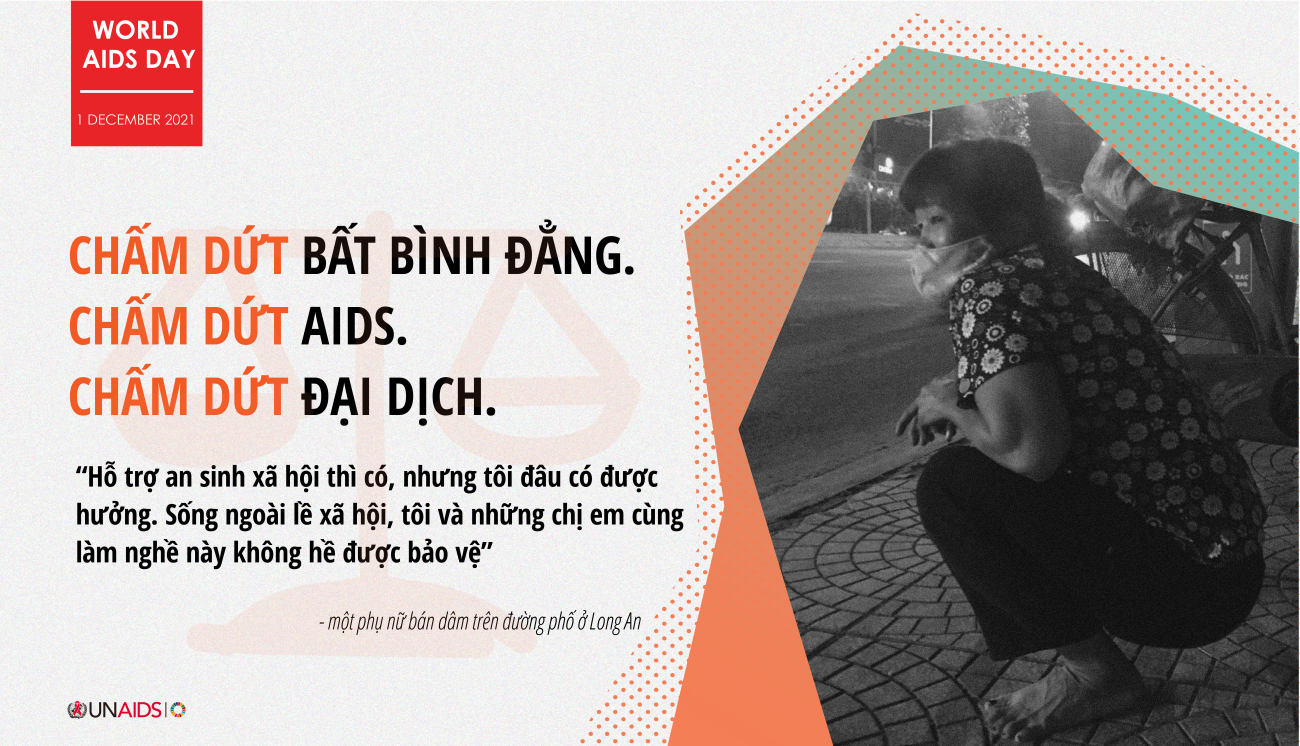 "I felt painful, humiliated, disgusted, scared when they had sex with me in a brutal way that was nothing like what we have agreed."
Hanh (not her real name), a 50-ish female sex worker in Long An province, shares her feeling of facing sexual violence. 
A raft of strict lockdowns took place in response to the fourth wave of COVID-19 infections since April 27, 2021, which was considered Viet Nam's most severe outbreak since the pandemic began. The tightened social distancing rules have profoundly upended the livelihood of street-based sex workers, like Hanh.
Cutting all ties with her family, Hanh inhabits a small 2-room house with three other street-based female sex workers in a suburban area of Tan An city. The monthly rent is 600,000 Vietnamese Dong (VND) per person in the shared room. As an older street-based sex work, she only has 1 to 2 clients per day now and the charge is low, ranging from 120,000 - 200,000VND per client. To make ends meet, every night she also collects scrap items from door to door and sells them to recyclers as individuals or small shops. As COVID-19 raged and mobility on the street was restricted, all her sources of income halted. Her income dropped to zero. 
Between July and October in 2021, the Government had provided cash support, trice already, to unemployed people or those who have lost jobs because of COVID-19. However, Hanh and many other sex workers were not able to receive any cash or social support. 
COVID-19 outbreaks have exacerbated the hardships, inequalities, and violence faced by sex workers. Many are either not eligible or excluded from social protection services. According to a quick survey conducted by VNSW* in the 15 most heavily impacted Southern Provinces in late October 2021, more than 50% of interviewed sex workers could not access any or all the three social protection packages provided by the government in 2021. "Some of us do not dare to apply for the government relief, as sex work is illegal and not like other informal work such as lottery selling. We do not want to expose to stigma and discrimination", Hanh said.
The ravages of poverty left the sex workers no choice but to tread a tightrope. They contacted their clients by mobile, took turns to sneak out and sell sex at clients' places at night, and even bore the risk of being caught by local security forces for violating lockdown rules. 
Once, a male client initially invited Hanh secretly to his place to provide one-on-one sex service. She was fetched by his motorcycle from her house. Upon her arrival, she found that there were two other men in the room. Considering the potential increase in earnings, reluctantly, Hanh agreed to have sex with three of them one by one even though she only got one condom and lubricant with her. Only one of the clients used the condom, the other two did not use any protective measures. 
Yet, regardless of Hanh's willingness, three of them surged up like ravenous wolves. Suffering from their brutal and violent act, Hanh was hurt in severe pain and extremely traumatized. 
Afterward, those men backed out from the initial agreement and pressed her to charge 200,000 VND for the three of them, which is barely equal to her standard service charge for one client. Her simmering anger boiled over and she argued with them. 
"Slap!" One of them slapped her in the face and threatened her to cut down the fee or they would not drive her home implying – she needed to bear the risk of being caught by local forces for violating lockdown restrictions. Considering all the risks, she aggrievedly compromised. Hanh returned home with pain, anger, and trauma.
Due to the illegal nature of sex work in Viet Nam, she did not dare to report the case to the authorities. The only support she managed to get was empathy and counseling from her peers in the sex workers self-help group. 
"Social protection is there, and it's just-out-of-reach for somebody like me. Living on the fringe of the society, I and other sex workers do not have any protection.", shared by Hanh in despair, "I had no choice but was forced to put my health, safety, and security at increased risk to make a living, to survive."
Sex workers are entitled to safe working conditions, access to social protection, and autonomy over one's own body and sexuality, without discrimination (UNAIDS, 2021). Exclusion from financial support measures denies sex workers the essential health and social safety nets being put in place for other workers. In addition, the lack of access to emergency social protection measures diminished their ability to leave or influence the abusive workplace. 
UNAIDS calls on multisectoral stakeholders to take immediate, critical action, grounded in human rights principles, to protect the health and rights of sex workers. Measures should
include, among others, access to national social protection schemes for sex workers,
including income support schemes.
If you or someone you know needs help, you can call <094 140 9119> to report any cases of gender-based violence. All information will be confidential. 
*The Viet Nam Network of Self-Help Groups Supporting Sex Workers (VNSW): Viet Nam Network of Self-Help Groups Supporting Sex Workers
Reference:
UNAIDS (2020). Press Statement - Sex workers must not be left behind in the response to COVID-19. Access from https://www.unaids.org/en/resources/presscentre/pressreleaseandstatementarchive/2020/april/20200408_sex-workers-covid-19 
UNAIDS (2021). HIV and Sex Work - Human Rights Factsheet series. Access from https://www.unaids.org/sites/default/files/media_asset/05-hiv-human-rights-factsheet-sex-work_en.pdf
WHO (2004). Violence Against Women and HIV/AIDS: Critical Intersections. Access from https://www.who.int/reproductivehealth/topics/violence/hiv/en/
Written by
UN entities involved in this initiative
UNAIDS
Joint United Nations Programme on HIV/AIDS
UNODC
United Nations Office on Drugs and Crime
WHO
World Health Organization