Story
A thought-provoking field visit to communities affected by climate change in Central Viet Nam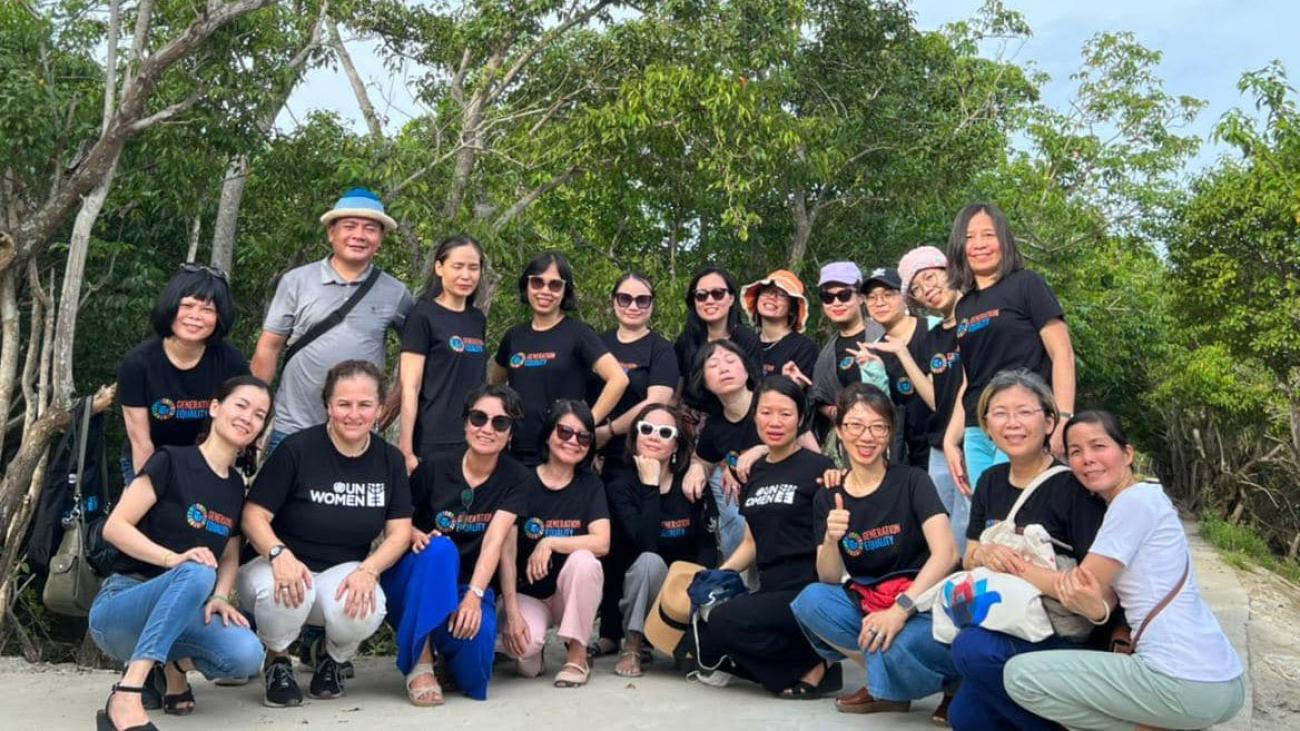 UN Women Viet Nam's staff retreat gave us insight into the realities and needs of the women and girls that we serve.
This year, the staff retreat of UN Women Viet Nam included a visit to communities affected by climate change. The aim of this important visit was to sensitize the whole team about the realities and needs of the women and girls that we serve, and reflect together about how UN Women Viet Nam can best support them through our triple mandate.
The team went to visit a costal commune in Huong Tra district, Thua Thien Hue province, which is frequently hit by sea-level rise and flooding. Currently, due to COVID-19, many women are unemployed and doing agricultural work is their main source of livelihood.
"Because of gender inequality, women and girls are more at risk," said Tran Thi Thuy Anh, UN Women programme analyst on gender and disaster risk reduction in a briefing session for all country office staff before the field visit. "They are under-represented in disaster risk reduction [DRR] strategies and lack access to DRR training and knowledge. They tend to be perceived as victims of climate change instead of agents of change for their own futures."
In Viet Nam, natural disasters are currently threatening the livelihoods and food security of millions of people. The country was ranked 16th most affected by climate change-related disasters between 1999 and 2018, according to the global Climate Risk Index 2020 for the countries. Viet Nam's coastal, mountainous, and delta regions make the country especially vulnerable. Sea level rise, flooding, drought, and landslides are causing increasing damage each year.
As stated in the Strategic Note 2022-2026, UN Women Viet Nam will work towards the empowerment of women and girls, with a focus on promoting women's leadership and resilience in high-risk areas. Moreover, in the next five years, the office will continue supporting national partners to mainstream gender in policies on climate change adaptation as well as in all aspects of DRR planning, implementation and monitoring.
Making a visit to climate change affected communities was an essential part of the UN Women Viet Nam staff retreat this year. "Getting to know the real people affected by disasters increases our awareness and commitment to make a difference and become more effective in our work promoting gender-responsive climate change adaptation and disaster risk reduction in Viet Nam in the next five years", said Elisa Fernandez Saenz, UN Women Representative in Viet Nam.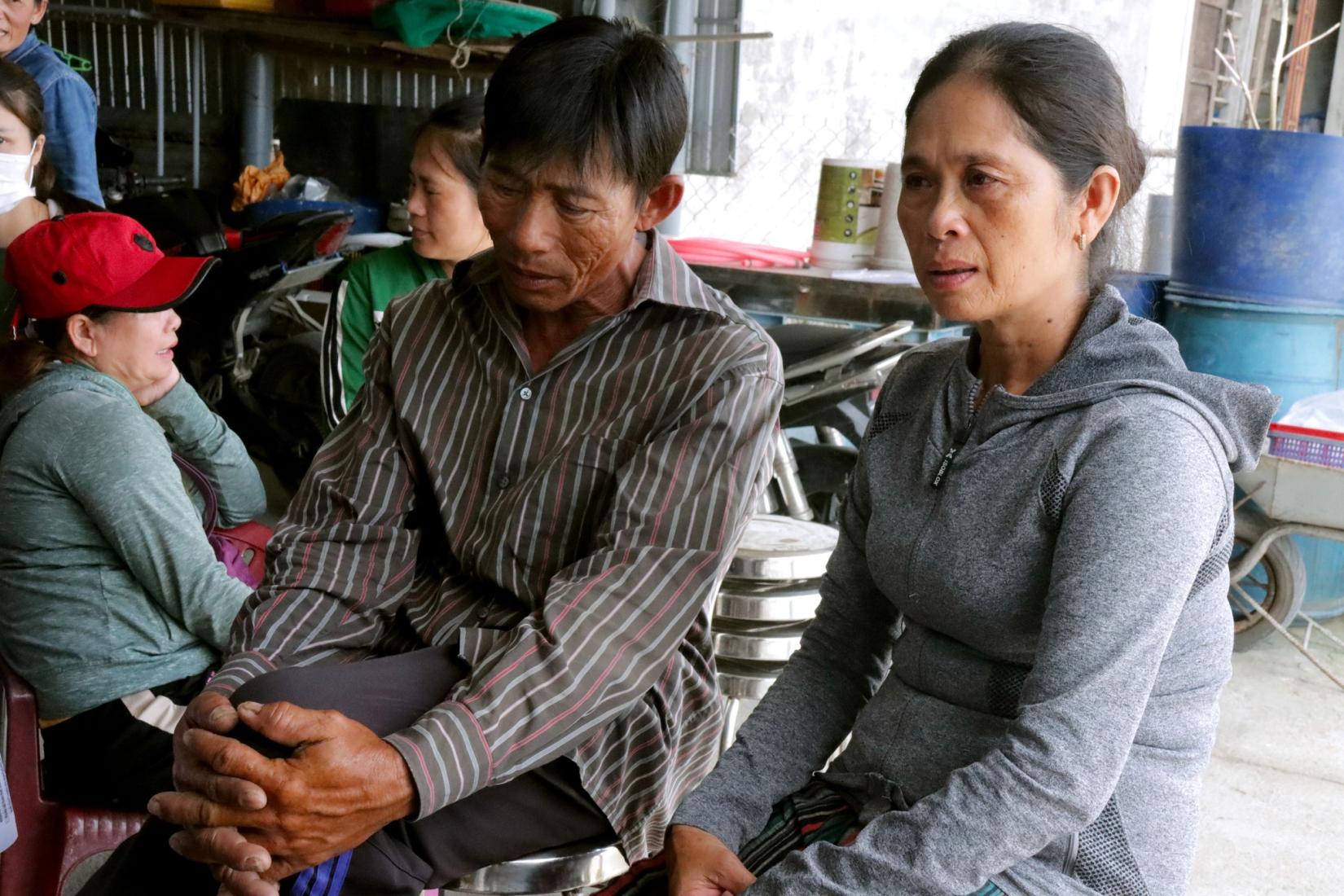 "Tropical storms are more destructive, frequent, and unpredictable in recent years. Last year, the storm destroyed my fish farm and due to COVID-19 social distancing and lockdown, I could not sell the remained fish, but we still had to repay the loan," said Bang, a 55-year-old resident in Huong Tra district, Thua Thien Hue province.
Bang and her husband used to have a high income in the commune from raising fish, she told the UN Women team. But she has lost 10 kilos since last year because of stress caused by an outstanding loan of more than 1 billion VND (USD 50,000). The storm and flood last year killed most of the fish and damaged the farms severely. Bang invested more to restore the fish farms but she could not sell the fish due to the COVID-19 lockdown and social distancing.
Her family have learnt a significant lesson, which is that it is essential to use weather forecast information for decision making in her business. "Now, when I know a storm is coming, I inform the rest of the village, so we sell our fish before the storm hits. We help each other to reinforce our houses and fish farms to reduce the loss," said Bang.
As the impacts of climate change and disasters intensify, it is vital that people in vulnerable rural communities are included in the planning and implementation of climate change adaptation and disaster risk reduction activities. This is particularly the case for rural women, most of whom are engaged in smallholder farming and lack access to information, resources, and extension services, especially women from poor and ethnic minority households.
"Through this field visit, I understand that rural women are truly experts in the field with their rich experience and aspirations," Pham Thi Minh, a finance associate with UN Women Viet Nam, reflected about the visit.
"Their voices should be heard so that when disasters occur, resilient communities are able to mitigate the effects and recover more quickly and sustainably," said Duong Bao Long, the driver cum admin clerk of UN Women Viet Nam.
UN entities involved in this initiative
UN Women
United Nations Entity for Gender Equality and the Empowerment of Women