Press Release
Tea time with the Transgender community
25 August 2022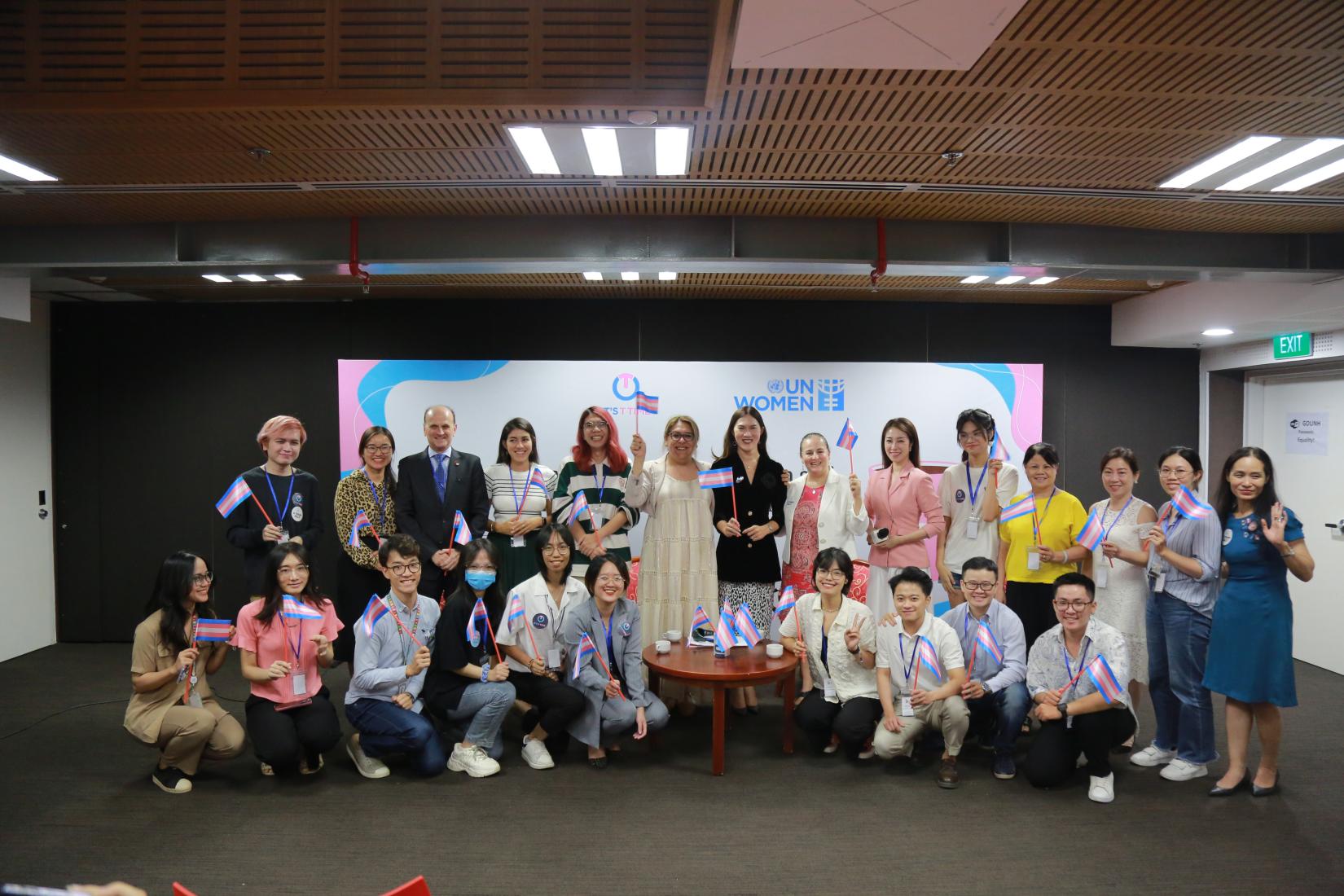 Hanoi, August 24, 2022 – Today, the United Nations Entity for Gender Equality and the Empowerment of Women (UN Women) and It's T Time - the transgender rights advocacy organization co-hosted the Dialogue "Tea time with the Transgender community" at the Green One UN House (GOUNH) in Viet Nam.
The Dialogue convened more than 40 participants from the transgender community, transgender rights advocacy organizations in associations with concerned ministries, departments and agencies. This is a space for transgender people and their families to share experiences and difficulties in daily life. Meanwhile, priorities were raised from insiders' perspective, with a view to making contributions to the draft Gender Affirmation Law (GAL) in Viet Nam.
As informed by the Ministry of Health, there are approximately 480,000 transgender people in Viet Nam [1]. Due to persistent stereotypes and biases in society, transgender people often face stigma and discrimination from society in various aspects, such as in performing medical procedures, administrative procedures or applying for jobs. This requires public awareness raising as well as practical legal frameworks to ensure the rights of transgender people in Viet Nam.
On November 21, 2015, the National Assembly passed the Civil Code (amended) recognizing the right to gender affirmation. However, as there is no specific legal framework for gender affirmation, transgender people in Viet Nam still have to go overseas or go to unlawful health facilities in Vietnam to carry out medical interventions, thereby causing enormous health and life consequences for transgender people. After delays as a result of the COVID-19 pandemic, at the end of June, the Ministry of Health reported to the Government on the applications for the draft GAL. If formulated and adopted or passed, the GAL will enable transgender men and women to legally transition in Viet Nam. In an effort to ensure the comprehensiveness and effectiveness of this law, the voice of the transgender community plays a vital role.
The dialogue anticipates making contributions to bridging and to empowering the voice of the transgender community to get closer to the public and policymakers.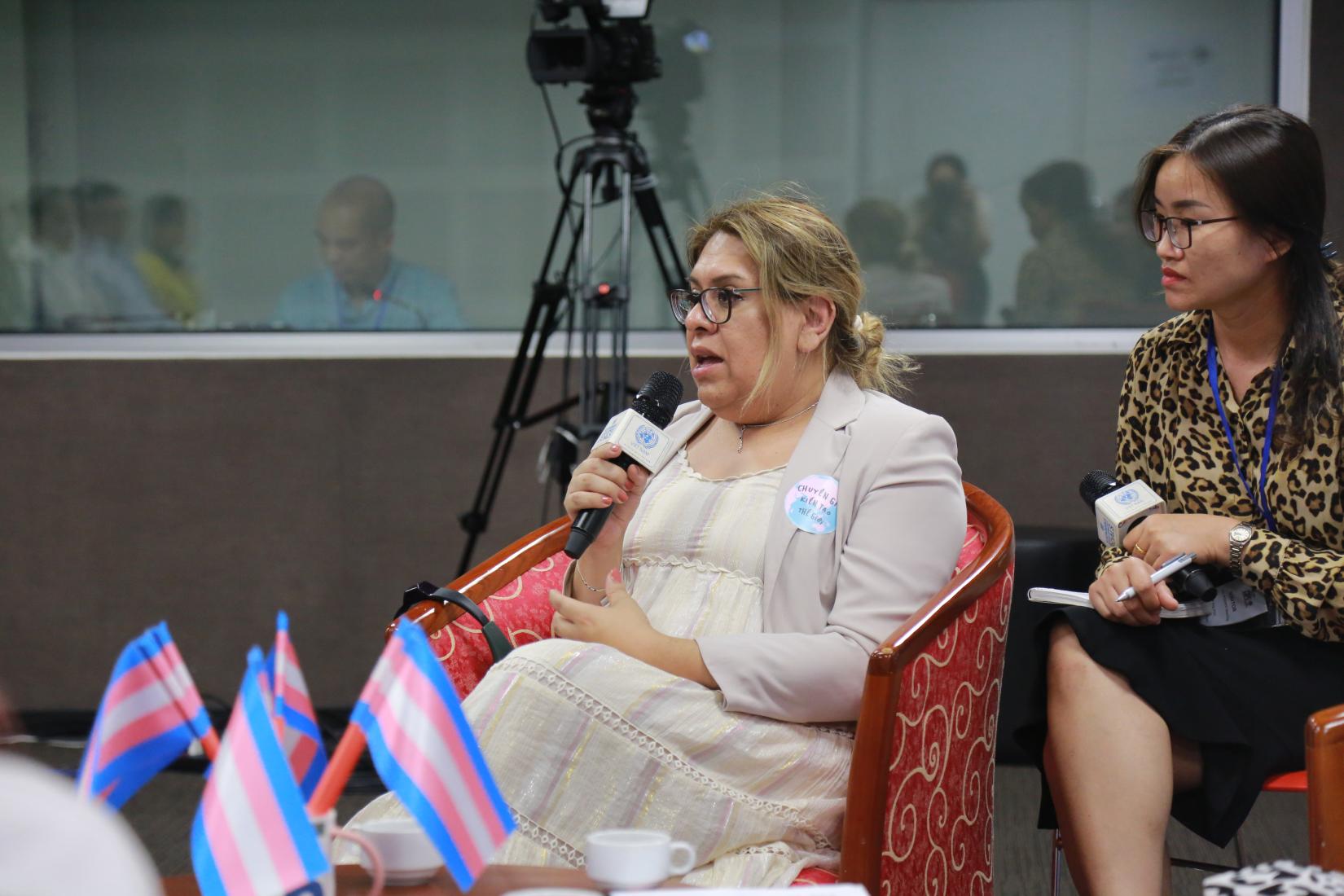 The event also featured a special guest, Ms. Alba Rueda, Argentina's Special Envoy for Sexual Orientation and Gender Identity. With multiple years of experience in formulating and implementing the 2012 Gender Identity Law in Argentina - one of the most progressive laws in the world on transgender people's rights, Ms. Alba brought new perspectives and viewpoints that require attention and prioritization to the draft GAL in Viet Nam.
[1] In this writing, the term 'transgender' is used to refer to any person whose gender identity differs from that person's sex assigned at birth. A transgender person can identify themselves as a male, a female, a transgender male, a transgender female, can be a person of gender diversity or gender non-binary or as defined by other terms.
Information about Ms. Alba Rueda
Ms. Alba Rueda is currently Argentina's Special Envoy for Sexual Orientation and Gender Identity, cum the first Deputy Minister for National Diversity Policy at the time when the Ministry of Women, Gender and Diversity was established. During her tenure as Deputy Minister for Diversity Policy, she promoted policies on LGBTI+ inclusion and integration, as well as coordinated the activities to: increase access to health care services; eliminate violent acts in institutions and labour in the direction of diversification; and promote employment opportunities among the LGBTI+ community. She also proactively works in promoting and enforcing the Transgender Labour Quota Law (Decree 721/20 and Law 27,636). In addition, she has twelve-year experience working in the Ministry of Justice and Human Rights. Here, she worked for the National Institute against Discrimination, Xenophobia and Racism (INADI) and the National Secretariat for Human Rights. Alba Rueda is known as a transgender activist who often combines academic knowledge with extensive experience in social activism. In addition, she is one of the founders of Mujeres Trans Argentina (MTA) and a member of Notitrans, the first transgender journal in the country.
Hoang Bich Thao
UN Women
Communications and Advocacy Analyst
UN entities involved in this initiative
UN Women
United Nations Entity for Gender Equality and the Empowerment of Women
Other entities involved in this initiative
ACN
Aid to the Church Need