Story
UNIDO's technical advice enables first batch of Vietnamese pomelos exported to the US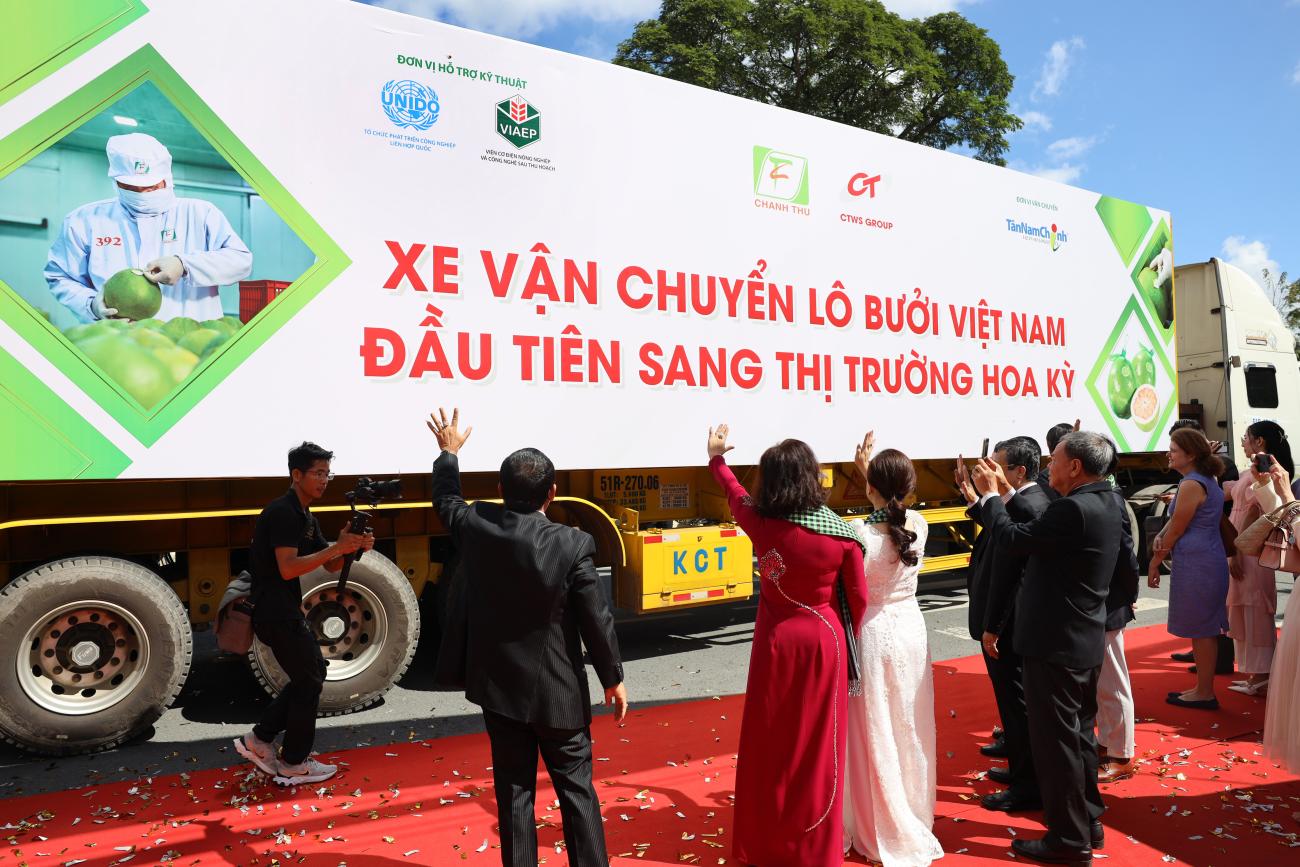 UNIDO has provided technical support to Chanh Thu Fruit Import-Export Group JSC for the first batch of green-skinned pomelos exported to the US.
Viet Nam's first batch of pomelos was exported to the United States from Ben Tre Province (Mekong River Delta) on Monday, November 28, 2022, at a ceremony organized by the Ministry of Agriculture and Rural Development and the provincial People's Committee. After nearly six years of negotiations, the US market is unlocked to Viet Nam's fresh pomelos.
The export was enabled by efforts from pomelo value chain actors, including policy-makers, exporters, farmers, business providers and also UNIDO's experts. Pomelos exported to the United States have very strict pest control requirements, which required a lot of time in training farmers as well as changing the farming process to meet the requirements and improving the linkage chain. UNIDO Viet Nam and the Institute of Agricultural Engineering & Technology After Harvest (VIAEP) have been on the ground providing direct technical support in post-harvest treatment to this very first batch of pomelos in Chanh Thu Fruit Import-Export Group JSC (Chanh Thu) to meet US market standards.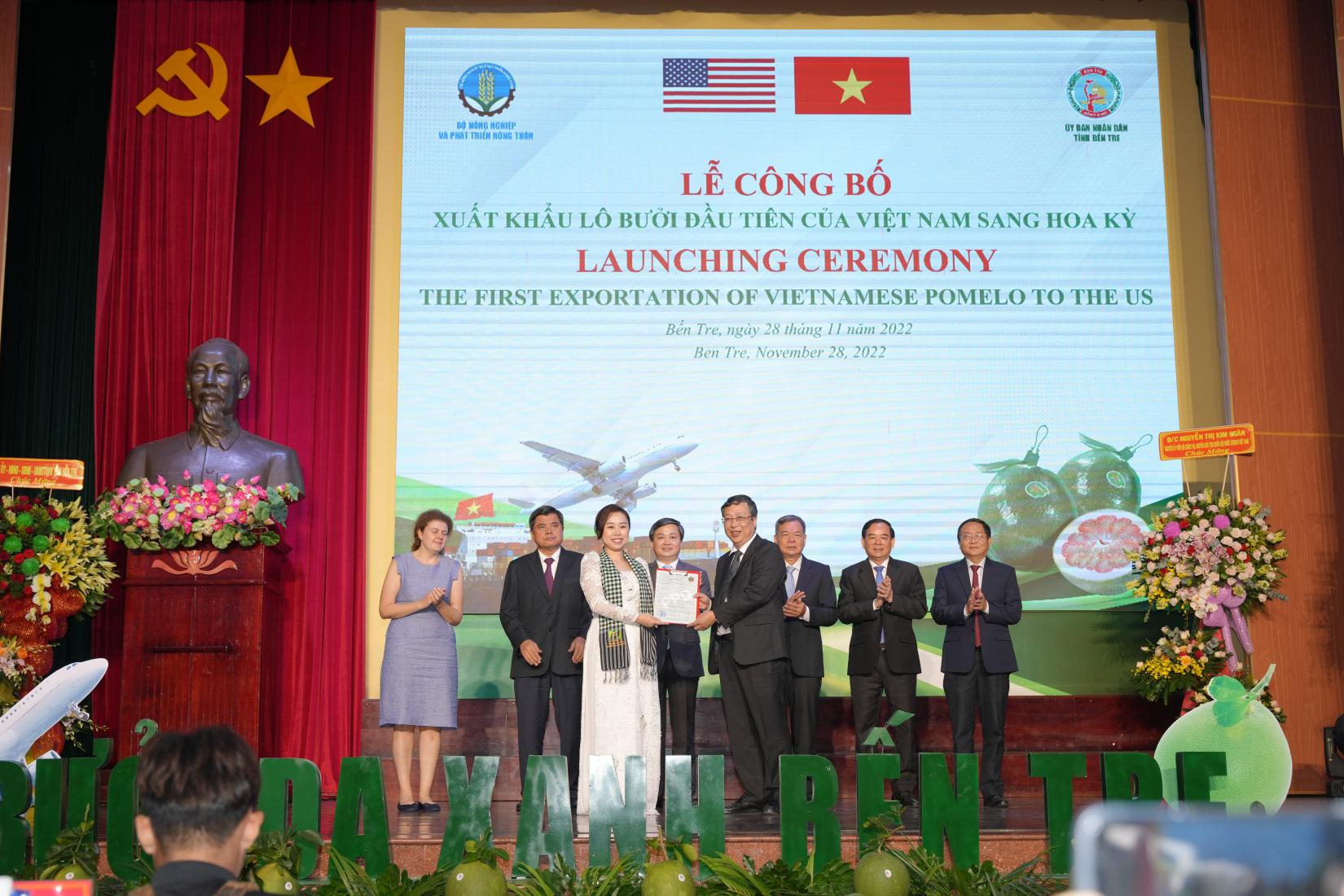 Chanh Thu is one of the women and youth-owned businesses in the Mekong Delta which are assisted in enhancing innovation and technology application and increasing quality standards compliance capacity. The activity was under the framework of the Global Quality and Standards Programme (GQSP) and the United Nations Multi-Parter Trust Fund (MPTF). The GQSP Vietnam project is part of a wider global GQSP programme funded by the State Secretariat for Economic Affairs (SECO) of Switzerland and implemented by UNIDO in close cooperation with the Ministry of Agriculture and Rural Development (MARD).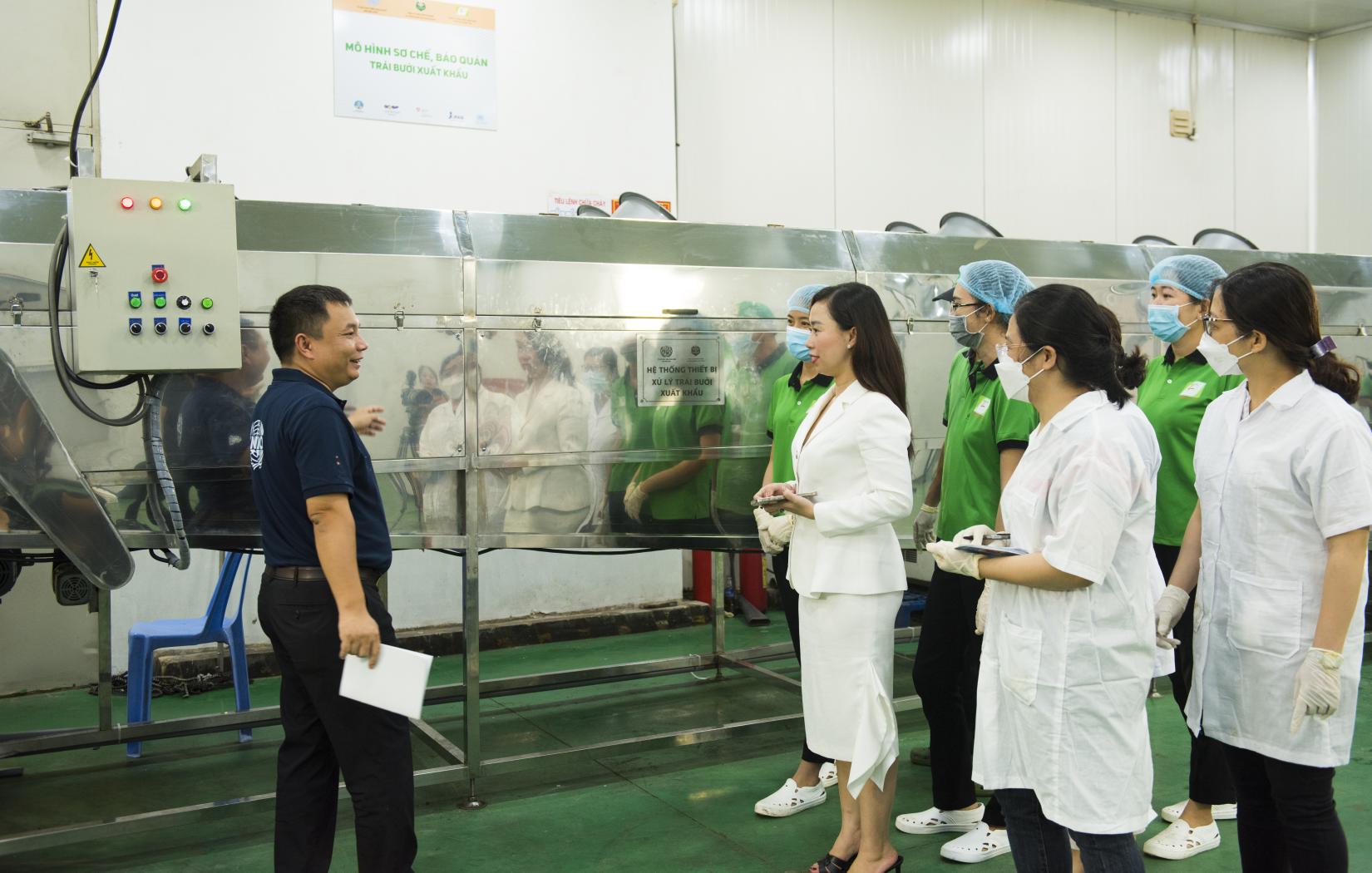 According to technical requirements for pomelos entering the US market, it is mandatory to use coating instead of plastic wrap. The new coating technology developed by the project, in collaboration with VIAEP and international experts, extends the shelf life by up to 3 months without using plastic wrap. In parallel with the research and development of coating products, a synchronized pre-processing system for pomelo processing with a capacity of 4-5 tons/hour has been designed, manufactured and installed, including major steps of washing, chemical treatment, draining, waxing, and drying. This equipment system was accepted by the US Animal and Plant Health Quarantine (APHIS) and the Plant Protection Department to enable the exporter to meet the requirements for exporting pomelos to the US market.
"The effectiveness of the project helps enterprises overcome the key challenge of fruit exporting, which is post-harvest treatment to preserve fruits for a long shipments and export to demanding markets with reduced logistics costs. This is a necessary move at this point. This also encourages enterprises to invest more in future innovations to bring quality products to consumers." - Ngô Tường Vy, general director of Chánh Thu, shared about UNIDO's technical support.
Based on this success, UNIDO will continue to work to enhance international market access for Vietnamese fruits, build innovative and sustainable value chains to contribute to the rural economy.
UN entities involved in this initiative
UNIDO
United Nations Industrial Development Organization