Press Release
The Program "Orange-blended art – Reborn" for the safety of women and children
04 December 2022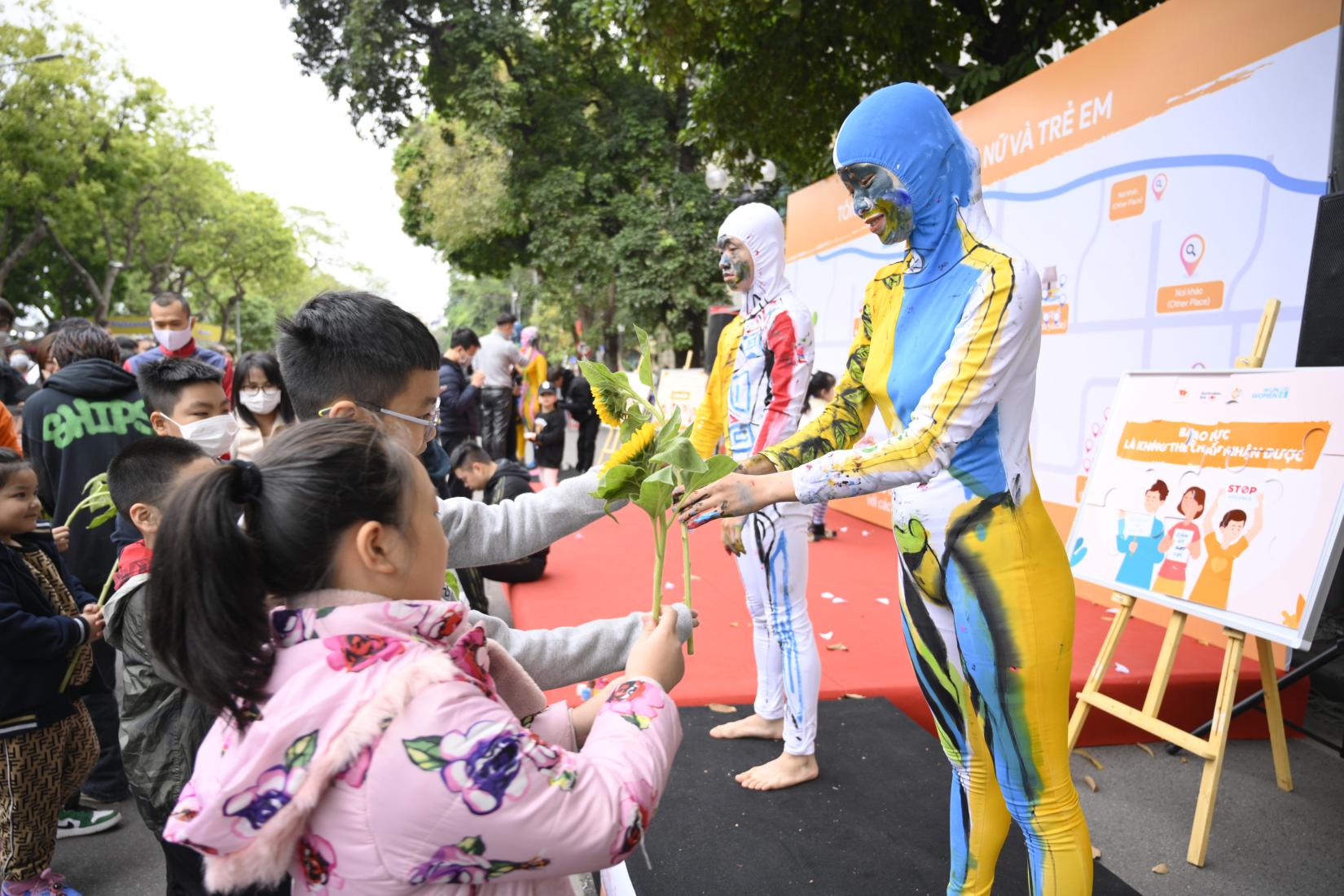 Ha Noi, December 4, 2022 - Today, at Hoan Kiem (the Returned Sword) Lake pedestrian street, people were fascinated by the immensely-impressive article performances of human statues and body painting embedded with the message of an equal, safe and violence-free life for women and children in Viet Nam.
As part of the event series of the Orange the World Campaign, 16 Days of Activism against Gender-based Violence organized by the United Nations Entity for Gender Equality and the Empowerment of Women (UN Women in Viet Nam), the "Orange-blended art – Reborn" performances was delivered for the first time in Ha Noi, which overwhelmed viewers with a wide range of emotional nuances on the mental and physical damages among the survivors of violence and the process of healing and being reborn when receiving empathy, sharing and support from the community. Thereby, the program is expected to widely roll out the voice and the message of "Respect and protection of women and children".
The performance program "Orange-blended art – Reborn" consisted of two main parts: Break the silence and Reborn presented by painters Tuan Viet and Binh Pro. Here, the artists displayed two opposing psychological fields: Negativity – illustrated by mixed and chaotic colour shades, the images representing mental and physical pain and Positivity - envisaged through bright, cheerful colours, representing the assuagement and healing of oneself, which was sharply depicted. If in part 1, the artist performed the torment and innermost pain of the hurt characters, in part 2, the colour streaks were gradually "alleviated" as a way of recreating and reviving through words of encouragement, hand joining to speak up and shared empathy from the community and society. The flowers of love, of faith in life also gradually bloomed from therein.
The event was an activity under the umbrella of the Orange the World Campaign, 16 Days of Activism against Gender-based Violence (November 25 - December 10) and the National Action Month for Gender Equality and Gender-based Violence Prevention and response (November 15 – December 15).
Additional information for Editors:
Globally, one billion children per year are subject to violence in one form or another. The Viet Nam SDG indicators on Children and Women Survey 2020-2021 indicated that more than 72% of children between the ages of 10 and 14 had experienced violent disciplines. Among them, 39% of children suffered from emotional violence, physical abuse (47%), sexual abuse (20%), and negligence (29%). These scars would not only leave physical pain, but also result in persistent mental obsessions for a lifetime.
According to the 2019 National Study on Violence against Women in Viet Nam, 62.9% of women in Viet Nam experienced one or more forms of physical, sexual, emotional and economic violence, as well as controlling behaviours by their husband or intimate partner in their life time. In Vietnamese society, violence was often hidden reflected by the fact that 90.4% of the women who experienced violence did not seek for help from formal services or authorities and half of them never told anyone about their experience of violence. In addition, the impacts of violence against women were estimated to be equivalent to 1.81% of Viet Nam's GDP in 2018..
Contact information for press and media people:
Hoàng Bích Thảo, Communication Officer - UN Women
Cell: 0705163996
Email: hoang.thao@unwomen.org
Hoang Bich Thao
UN Women
Communications and Advocacy Analyst
UN entities involved in this initiative
UN Women
United Nations Entity for Gender Equality and the Empowerment of Women