Story
Viet Nam Embraces Zero HIV-related Discrimination in Health Care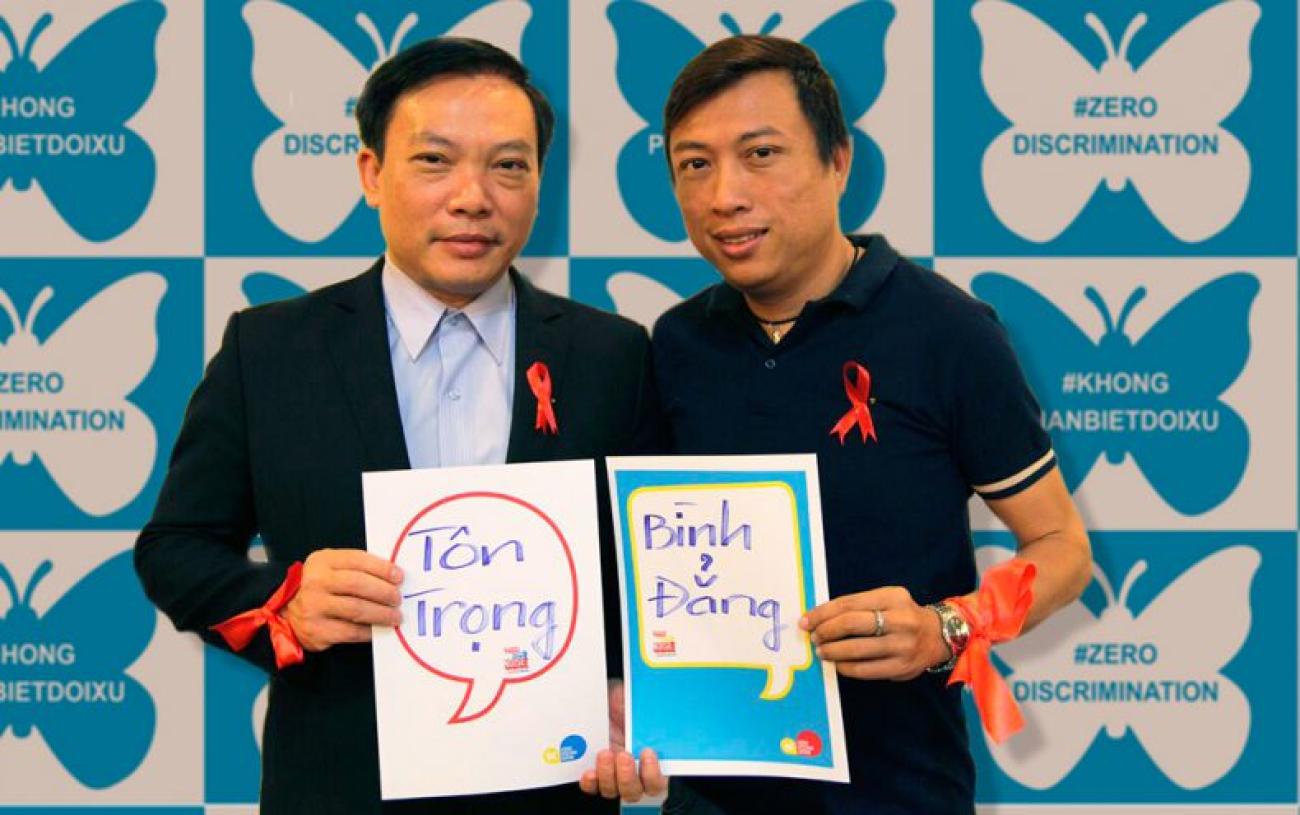 An innovative demonstration project aiming at better understanding and reducing HIV related discrimination in healthcare settings
As part of the Viet Nam Administration for AIDS Control (VAAC) commitment to intensify efforts against HIV-discrimination toward ending AIDS as a public health threat by 2030, an innovative demonstration project aiming at better understanding and reducing HIV related discrimination in healthcare settings was conducted in Ho Chi Minh City in 2016-2017, with technical support from UNAIDS and funding from M.A.C AIDS Fund and UN Delivering Results Together Fund.
Removing unnecessary fear of HIV among health workers
Ho Chi Minh City spearheaded the pilot starting with the adaptation of a HIV-related discrimination survey tool and conducting the survey among health workers and People Living with HIV (PLHIV) as service users in three health facilities in the city.
"We chose both general hospitals and HIV specialized health facilities for conducting this survey," said Dr. Tieu Thi Thu Van, Director of Ho Chi Minh City Provincial AIDS Centre. "It provides us with scientific evidence of the level of HIV-related stigma and discrimination in health facilities that will inform interventions to create change among health workers. This demonstration project is therefore rather important."
The survey clearly showed the existence, scope and nature of HIV-related stigmatization and discrimination in the selected health care facilities. Indeed, 40% of the HIV positive respondents reported having experienced discrimination in the health facility, while many health workers (about 70% of all respondents) reported applying over-protection measures when taking care of PLHIV due to their worry of infecting HIV. The importance to remove unnecessary fear of HIV among health workers, as well as to reduce stigmatization and discriminatory practice, was clear for the authorities and managers of the health facilities.
Informed by the survey's results, Ho Chi Minh AIDS Centre worked with the three health facilities to build staff HIV accurate knowledge and professional skills. This included development of a tailor-made training toolkit, workshops for trainers, training for healthcare workers with PLHIV as co-trainers and development of a code of conduct for zero HIV discrimination in a health facility.
The participatory training approach and evidence-based interventions already led to changes with reducing stigma and discrimination. The post-training survey reflected a lower percentage of fear of HIV infection among the healthcare workers who participated in the training and a reported significant reduction of the use of over-protection measures (e.g. wearing double gloves) by the trained healthcare workers. The program instilled more accurate HIV/AIDS knowledge and removed the participants' negative opinions towards PLHIV influentially.
Partnership for ending discrimination in health care  
According to the global agenda, a national action plan on zero discrimination in healthcare settings should embrace seven priorities. Some of these priorities are very relevant for the response to HIV.
A key factor of success of this initiative was the partnership approach. Indeed, it was fully designed and implemented – from conceptualization, adaptation of the tool kit, conducting the survey, the training of trainers and training sessions at health facilities, as well as monitoring of progress -  with the close engagement of representatives of the Viet Nam Network of People Living with HIV (VNP+) and members of other key populations affected by HIV.
"Reducing HIV-related discrimination is not only the task of health workers. We the people living with HIV also have to take part," said Nguyen Anh Phong, VNP+ Steering Committee representative in southern Viet Nam. "We work closely with the three health facilities to find appropriate solutions to address the existing discrimination that suits both health workers and community, so as to mobilize community participation in this effort."
"I hope lessons learned from this pilot will help further improve the methodology of measuring HIV-related discrimination in healthcare settings and intervention approaches, so we can expand the practice nation-wide." said Dr. Hoang Dinh Canh, VAAC Vice Director. Informed by the success of UNAIDS supported pilot demonstration, the government now has a loftier vision in embracing zero HIV-related discrimination in healthcare settings.
Viet Nam' Ministry of Health issued Directive No.10 in 2017, stating the commitment of strengthening HIV-related stigma and discrimination reduction in healthcare facilities. Details of implementation are further explained in a technical guideline issued by the VAAC. Programmes on removing HIV-related stigma and discrimination have further expanded in Ho Chi Minh City and other provinces with a high number of PLHIV, led by VAAC and local authorities with support from development partners.
'Thank to the leadership and collaborative efforts of the Government, local authorities, managers of health facilities and communities of PLHIV and key populations with support from the UN and other development partners, this initiative and its expansion to a national commitment and efforts showed that progress to reduce discrimination and create friendly and inclusive health care settings for everyone is possible' said UNAIDS Country Director Ms. Marie-Odile Emond. 'We need to continue this effort, every day everywhere, to make Zero Discrimination a reality and leave no one behind.' she added.
***
Background of Viet Nam national HIV response in combating discrimination
In 2014, Viet Nam committed to achieving the 90-90-90 targets – 90% of people living with HIV know their HIV status, 90% of all people diagnosed HIV positive to be on sustained antiretroviral treatment and 90% of those on HIV treatment having a suppressed viral load. However, HIV related discrimination in healthcare settings remains an important barrier for people to access and use HIV services. As the national HIV response becomes more integrated into the general health system and external funding declines, ensuring friendly, timely and zero HIV discrimination health care for everyone equally regardless of HIV or other health status, gender identity and behavior of selling sex or using drugs is essential and a good investment. This includes respect for patients' privacy and confidentiality of HIV status.
Written by
UN entities involved in this initiative
UNAIDS
Joint United Nations Programme on HIV/AIDS