Speech
Launch of the Voluntary National Review and Policy Dialogue Towards the SDG Summit 2023: National Commitments and Actions
Opening Remarks by Ms. Pauline Tamesis, UN Resident Coordinator
25 August 2023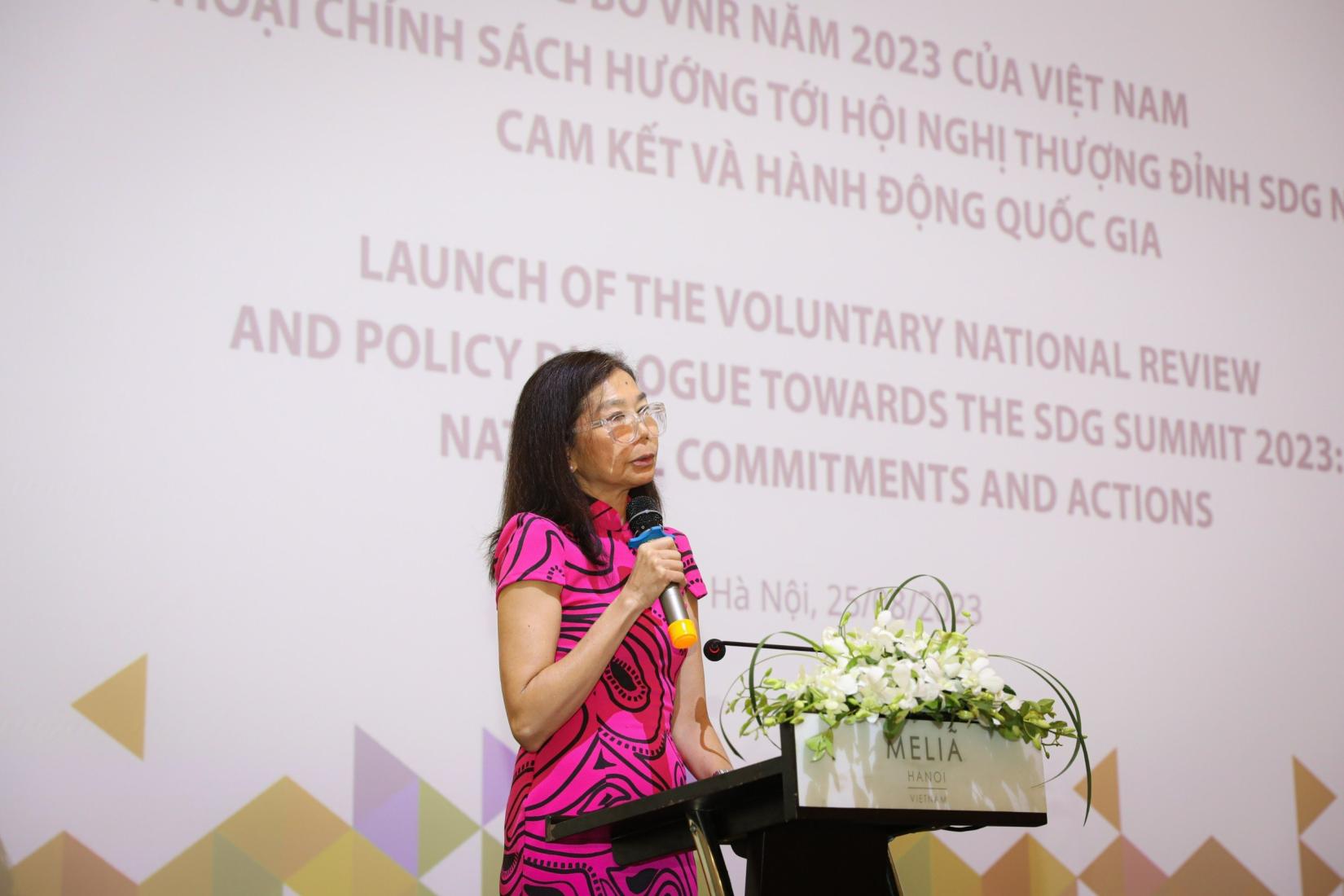 Dr. Le Viet Anh, Director General, Department of Science, Education, Natural Resources and Environment, Ministry of Planning and Investment;
Mr. Simon Kreye, Chargé d'affaires a.i., Embassy of Germany;
Esteemed Government Delegates, Diplomatic Corps, Development Partners, Distinguished Representatives;
Distinguished guests
It is a privilege to join you this morning for the Launch of Viet Nam's Voluntary National Review (VNR) and Policy Dialogue Towards the SDG Summit 2023: National Commitments and Actions. Thank you for your time and engagement in today's event. Our dialogue is in preparation for the Sustainable Development Goals Summit to be held at the UN General Assembly on 18 – 19 September 2023. The SDG Summit is an opportunity to secure the breakthroughs and momentum needed to change course and achieve the Sustainable Development Goals (SDGs) by 2030.
Why are we here?
The first sentence in the special report of the UN Secretary General, "Progress towards the Sustainable Development Goals: towards a rescue plan for people and planet" provides the most meaningful answer, "a promise in peril."
"Leave no one behind" is the defining principle of the 2030 Agenda for Sustainable Development. It is a shared promise by every country to work together to secure the rights and well-being of everyone on a healthy, thriving planet. But halfway to 2030, that promise is in peril. The Sustainable Development Goals are disappearing in the rear-view mirror, as are the hope and rights of current and future generations. A fundamental shift is needed – in commitment, solidarity, financing and action – to put the world on a better path. And it is needed now.
We can do better, and in moments of severe challenges, humanity has always come through. Now is another of those moments. The SDG Summit must signal a genuine turning point. It must mobilize the political commitment and breakthroughs our world desperately needs. It must deliver a rescue plan for people and planet.
Rescue the SDGs.
I recall that in the early discussions to prepare for Viet Nam's 2nd VNR, I already echoed the UN Secretary General's call for world leaders to help deliver a 'Rescue Plan for People and Planet' --- including by announcing national and global commitments that will help drive SDG transformation for inclusion and sustainability in the years ahead.
Viet Nam's high-level participation and presentation of ambitious National Commitments to accelerate SDGs by 2030 is a testament to the country's unwavering support to multilateralism anchored in the United Nations, and the 2030 Agenda for Sustainable Development and the SDGs.
The UN joins hands with the Ministry of Planning and Investment (MPI) and GIZ in organizing this dialogue to facilitate sharing of innovative ideas and recommendations in the formulation of Viet Nam's National Commitments to SDG Transformation. These Commitments will help provide concrete pathways for the Government of Viet Nam and various stakeholders to rescue the SDGs. This dialogue, more importantly, allows us to demonstrate our solidarity and support implementation.
How are we doing globally and nationally on the SDGs?
At the mid-way point of the 2030 Agenda for Sustainable Development, the SDGs globally are severely off-track. The multiple crises of the last three years have dealt a major blow to the SDGs. In the UN Secretary-General's special report, we learn that just 12 percent of the assessable SDG targets are on track. Hence the urgent need to change course and to secure the breakthroughs is needed to achieve the goals by 2030.
Viet Nam is no exception. The VNR report that we launch today shows that Viet Nam has made considerable progress in various goals. However, Viet Nam still needs to boost implementation and investments to bring all SDGs back on track to achieve the 2030 targets. We have less than seven years left.
Opportunities for transformation
But we can turn things around. Although the overall picture is deeply concerning, the data also offers a glimpse of the possible. It shows progress in several key areas from energy to Internet access and more. There is also ample evidence that the transformation demanded by the SDGs is one of immense opportunity.
The SDGs remain a truly inspiring and unifying compass. Our generation is equipped with knowledge, technologies and resources unprecedented in history and can draw on a wide range of normative frameworks. Breaking through to a better future for all demands that we put this advantage to use to lift people out of poverty, advance gender equality, put our world on low-emissions pathways by 2030 and secure human rights for all.
In Viet Nam, the UN believes that challenges can be turned into opportunities --- to transform the country's socio-economic development model --- to be more sustainable, inclusive and resilient, where no one is left behind.
Viet Nam's priorities for SDG acceleration
At the High-Level Political Forum (HLPF) in New York last July, H.E. Minister of Planning and Investments outlined six priorities to accelerate SDG implementation in the remaining period:
First, place people at the center of every decision, policy, and action.
Second, prioritize Science, Technology, and Innovation as a decisive lever for successful SDG implementation.
Third, improve the quality of human resources through development of equal, inclusive, and comprehensive educational and vocational training system.
Fourth, strengthen the management and efficient use of resources, environmental protection, climate change adaptation and mitigation, natural disaster prevention and mitigation, and development of green and circular economy.
Fifth, mobilize and effectively use financial resources including international and domestic public and private sources.
Sixth, continue the improvement of data availability including aggregated and disaggregated data to effectively monitor and assess the implementation of the SDGs.
Viet Nam's priorities identified in the VNR are well aligned with the 12 High Impact Initiatives (HIIs) developed by the UN globally to drive SDG transformation. There are 6 transitions, 5 accelerators and 1 cross cutting initiative.
The six transitions are in Social Protection and Jobs, Energy Compacts, Transforming Education, Food Systems, Digital Transformation, and Biodiversity and Nature Protection. Gender equality is cross-cutting, while the remaining 5 are means of implementation: finance, data, SDG localization, trade and public sector capabilities. The six transitions can generate large multiplier effects across SDGs to promote economic prosperity, while protecting human and environmental wellbeing.
Viet Nam has set ambitious targets, committed and initiated action in all six transitions, among others through the Just Energy Transition Partnership (JETP), the National Action Plan on Food Systems Transformation, the Education Development Strategic Plan 2021-2030, National Digital Transformation Programme by 2025 with an orientation to 2030, and Party Resolution on Social Policy.
Building upon these existing national commitments, the central questions are:
What and how transitions need to be prioritized in Viet Nam? What supporting policies, institutional arrangements, processes and actions are required to deliver these transitions and achieve SDG transformations? How to enhance coordination, integration and synergies in implementation across priority actions? How to strengthen partnerships and collaboration across diverse sectors and stakeholders? How to ensure that the transitions are just, equitable and inclusive?
Despite the potential merits, the transitions without adequate engagement across sectors and stakeholders could create winners and losers – widening inequalities and vulnerabilities in society and derailing SDG progress. Ensuring that transitions are just, equitable and inclusive underpin the promise of leaving no one behind. Our Secretary-General has called for a whole-of-government and whole-of-society approach. The UN stands ready to partner with all segments of the society towards SDG attainment.
Finally, we know that the SDGs can only be reached with equal commitment and focus on the means of implementation. Priority transitions for SDG breakthroughs require adequate and effective financing.
Viet Nam identified "financing" in its VNR as an enabler of transitions and policies into actions and results. An "SDG Financing Strategy" is key. While mobilizing additional financial resources is a priority, unlocking existing resources, including official development assistance (ODA) and enhancing domestic resource efficiency is equally important. Moreover, aligning the financial resources such as the state budget with SDG targets strengthens implementation and tracking of investments and progress.
It is timely that we hold this SDG dialogue on the eve of Viet Nam's National Day celebrations. It is a meaningful occasion to reflect on Viet Nam's remarkable socio-economic development journey and what remains to be done to achieve its ambition of becoming a high-income country by 2045. As long-standing partners of the Government and the people of Viet Nam, on behalf of the UN Country Team, I reaffirm our commitment to support Viet Nam in its journey to achieve inclusive and sustainable development.
Thank you! Xin cam on!
Speech by
Pauline Tamesis
RCO
Resident Coordinator
UN entities involved in this initiative
RCO
United Nations Resident Coordinator Office