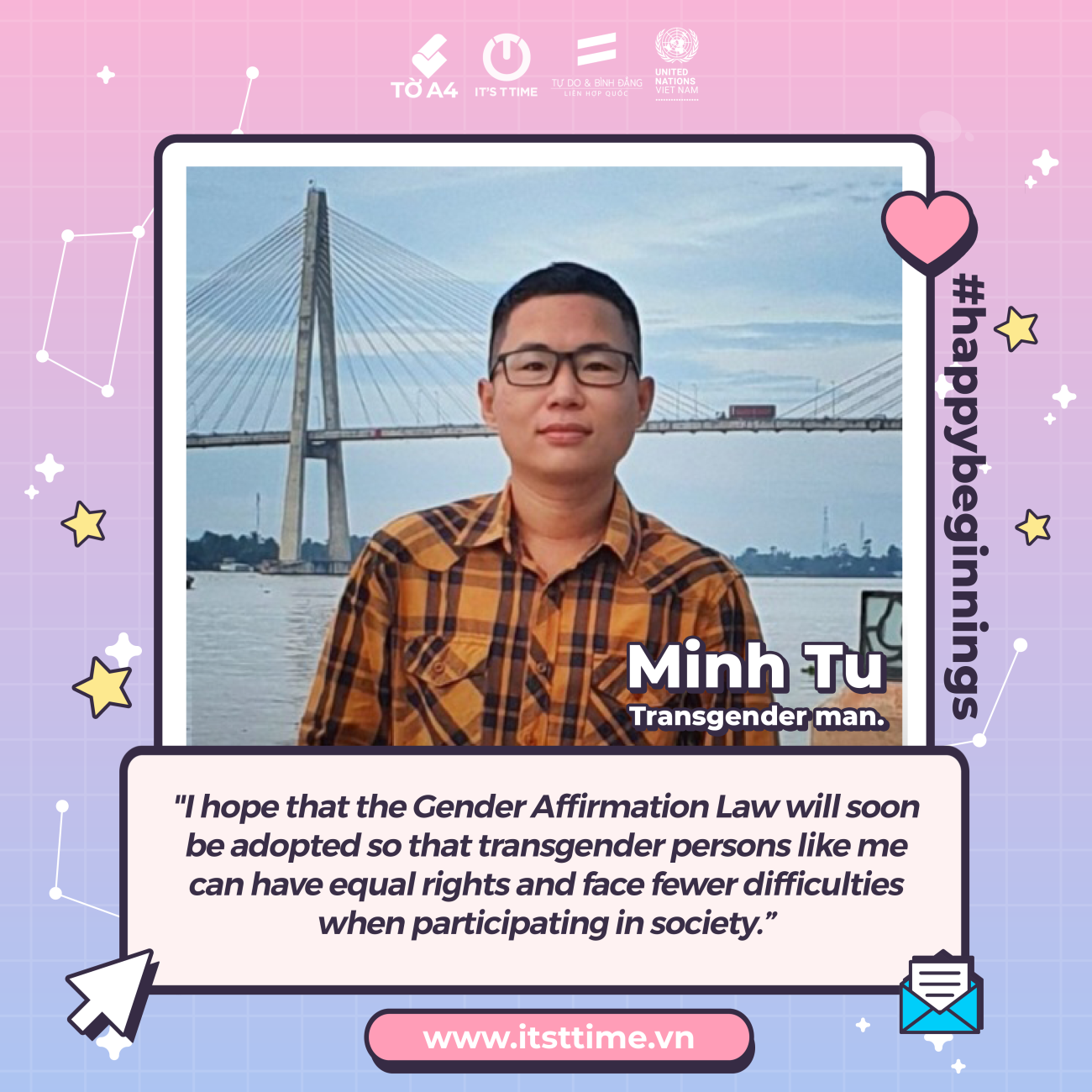 The story is part of the 2023 UN Free and Equal Campaign in Viet Nam
"Once, I was assisting two young customers, then suddenly there was a customer who was over 40 approaching me and asking me very bluntly, "Are you a boy or a girl?". At that time, I hadn't taken testosterone yet, so I had no choice but to say I was a girl. She immediately grabbed my chest to confirm if what I said was true or not and then left, leaving me and the other two customers astonished. I was really shocked, but as an employee, I had to continue and try to get the job done."
"Since I was a child, I have already had special affection for girls, but I didn't think I was different. I secretly liked girls but never confessed to them. When I was in 8th grade, there was a girl in my class who had a "masculine" personality like mine (although she still looked like a girl) and boldly showed her affection for another girl. That motivated me and helped me muster enough courage to write a letter to the girl I liked. One time, she called me "anh" (a Vietnamese pronoun for men) , and that made me really happy.
I came out to my family when I was just a little kid. My mom and I only had each other. Whenever I had a crush on someone, I would come home and tell my mom about it. So maybe somehow my mom had always known that I liked girls. When I was in 7th grade, she asked directly, "You like girls, don't you?". At that moment, I was too stunned to speak. "Yes", I finally answered.
My mom didn't scold me, she just said, "I'm afraid you'll suffer". At that time, she thought I was a lesbian.
As I grew up, I did more research [to understand myself better]. I joined FTM Vietnam and Transguy support social groups to learn from other trans men who share similar experiences. To be able to live as my true self, five years ago, I started using hormones and then got chest surgery. [...] My hormone checks in Thailand went smoothly without any issues, but when I returned to Viet Nam, it was quite challenging to find someone to administer my hormone injections. Anyway, overall, it wasn't too daunting. For my chest surgery, there were no major problems since I chose surgeons who have had experience in doing transgender surgeries. Nevertheless, during my company's routine health check-ups, some healthcare staff would refer to me as "chị" (Vietnamese pronoun for women) based on the gender in my identification document. When I tried to correct the staff, they yelled out, "Are you sure [that you are a man]?" several times. This made my colleagues burst into laughter. Since then, I got very anxious whenever I had to go for a routine health check-up. I am quite reluctant to use public healthcare services because of that reason.
Throughout my journey of discovering myself and affirming my gender identity using medical interventions, I wish there were a professional psychological counselor to guide me. It would have been better than facing it all alone. Even though my mother and friends support me wholeheartedly, they cannot fully comprehend what a transgender person needs.
In the working environment, I have to face other people's scrutiny. After graduating and entering the workforce, I decided to change my appearance by dressing in male clothing and cutting my hair short. But this made finding a job quite difficult. Once, a friend introduced me to a sales position at a mineral water company. After the interview, they informed me that their boss "didn't accept someone like me".
When I worked as a tour guide at an amusement park, I hadn't started taking testosterone yet, so my voice was still quite feminine in contrast to my appearance. Rather than paying attention to what I was saying, most customers were only curious about whether I was a man or a woman. It made me feel quite disheartened. I was assisting two young customers when a customer who was over 40 approached me and asked me very bluntly, "Are you a man or a woman?". I had no choice but to say I was a girl. She immediately grabbed my chest to confirm and then left, leaving me and the other two customers astonished. I was really shocked, but as an employee, I had to continue and try to get the job done.
Too many work-related complications arose just because my voice didn't match my appearance. This led me to start taking testosterone, even though I knew it would have a significant impact on my health. After the first dose of testosterone, my voice became significantly deeper, and almost everyone started seeing me as a man, which made it easier for me to do my job. However, there were some male colleagues who knew about my transgender identity and continuously asked questions, made rude comments and teased me.
In addition, I also faced challenges when carrying out administrative procedures or accessing public services. Afraid that the officials might be confused about my gender, I always inform them in advance that the gender on my documents is female. They would often confirm my gender again and give me eye rolls. Once, when I was registering a business, my gender was mistakenly recorded as male, so I had to go to the business registration office to correct it and explain myself to the staff. But it was genuinely frustrating because they said they only issued the documents based on my appearance and the photo on my citizen ID card, so it wasn't their fault.
I hope that the Gender Affirmation Law will soon be adopted so that transgender persons like me can have equal rights and face fewer difficulties when participating in society."
- Minh Tu, Transgender man
UN entities involved in this initiative