Story
Breakthroughs to achieve Việt Nam's Sustainable Development Goals by 2030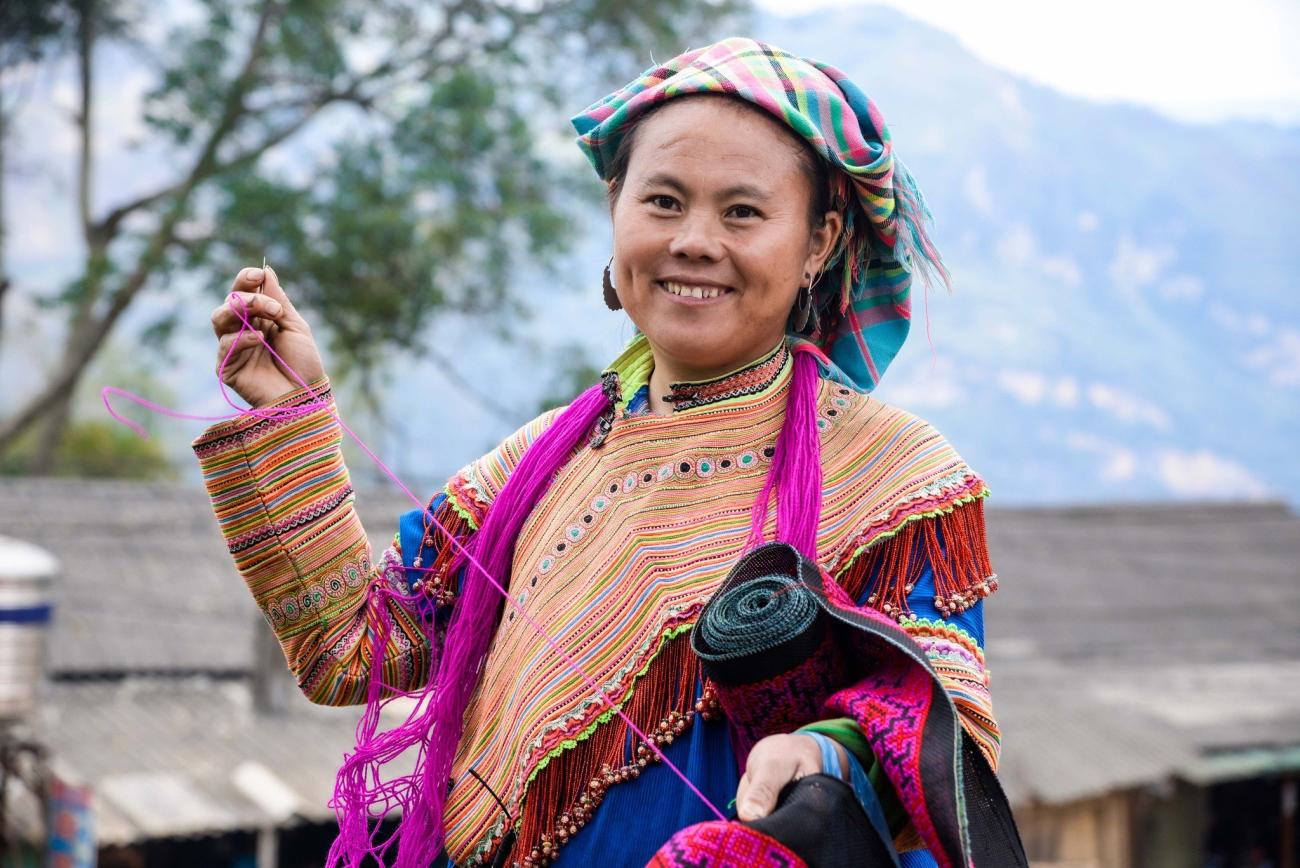 Opinion Editorial
By Pauline Tamesis, United Nations Resident Coordinator in Viet Nam
On the 18 and 19 September 2023, the world leaders will gather in New York for the SDG Summit, a pivotal moment to reignite our commitment to the SDGs and to accelerate our progress. These global goals are our shared roadmap, and embodies our collective hopes for a better, more equitable world.
Ms. La, a Mong living in the remote reaches of Hà Giang Province, dreams of a brighter future for her two children. One where they complete their education, find stable jobs, and live without fear of domestic violence. But Ms. La's journey has been fraught with hardships. Her region, characterised by its harsh climate and rugged terrain, is particularly vulnerable to extreme weather events. The COVID-19 pandemic only added to her struggles. Markets closed, transportation halted, and her children's education was disrupted. For Ms. La, the necessities we often take for granted, such as clean water and sanitation, remained out of reach. Her story reflects the essence of the Sustainable Development Goals (SDGs), highlighting the importance of goals on poverty eradication (SDG 1), hunger alleviation (SDG 2), health and well-being (SDG 3), quality education (SDG 4), gender equality (SDG 5), and clean water and sanitation (SDG 6). Her journey underscores why these global objectives matter on a personal level.
On September 18-19, 2023, the world leaders will gather in New York for the SDG Summit, a pivotal moment to reignite our commitment to the SDGs and to accelerate our progress. These global goals are our shared roadmap, and embodies our collective hopes for a better, more equitable world. Việt Nam's presentation of ambitious National Commitments towards SDGs acceleration is a testament to the country's unwavering support to multilateralism anchored in the United Nations, and the 2030 Agenda for Sustainable Development and the 17 SDGs.
Halfway to 2030, we find our global human family struggling with increased challenges and multiple crises that have severely derailed SDG progress. A recent report by the UN Secretary-General revealed that only 12 percent of assessable SDG targets are currently on track. While Việt Nam is fairing slightly better than the global average, it too faces its share of challenges. The second Voluntary National Review (VNR) by Việt Nam, presented to the High-Level Political Forum in New York in July 2023, celebrates substantial progress in poverty reduction, basic access to clean water and sanitation, internet and ICT access, and renewable energy capacity. However, most of the SDGs remain elusive and out of reach with less than seven years remaining. Governments, business, academia, civil society, communities and individuals around the globe urgently need to change course and innovate to secure the breakthroughs required to achieve the SDGs by 2030. The Government of Việt Nam's leadership is key to accelerating SDG breakthroughs.
The United Nations in Việt Nam continues to advocate and support the Government in expanding access to decent jobs and improving social protection and social care as one of the high impact initiatives for SDG acceleration. From 2020 to 2022, increases in coverage of social insurance from 32.6 percent to 38.0 percent of the working-age labor force, in health insurance from 90.9 percent to 92.0 percent, and in unemployment insurance from 26.8 percent to 31.2 percent of the labor force helped many vulnerable groups in coping with shocks and crises.
Ms. La´s story and our experience during the COVID-19 pandemic underscore practically what a study by the International Labour Organisation (ILO) in Việt Nam revealed scientifically. An investment of one million đồng in social policies, such as in social protection, education, and healthcare, can lead to an expansion of gross domestic product by 3.2 million đồng.
These encouraging outcomes are an example of the value of implementing the SDGs with a specific focus to the most vulnerable groups in the population, such as Ms. La and her family.
Implementation of the SDGs can only be attained with equal commitments to and focus on the means of implementation, including effective financing, data, institutional arrangement, and policy coherence.
Now is the time to reignite our commitment and actions towards SDG acceleration by building on such positive progress. Now is the time to mobilise stronger participation and collaboration among all actors in the government and society. And now is the time to undertake more robust reforms and increase investments in accelerating SDG transformations.
Việt Nam set ambitious targets, committed to major transitions, and initiated action through various programs and partnerships. Delivering on these transitions requires a strategic plan of action with dedicated resources, turning intentions into tangible results. The Just Energy Transition Partnership (JETP) and the National Action Plan on Food Systems Transformation exemplify and align with the priority transitions identified by the UN globally to accelerate SDG progress.
The UN stands steadfast alongside the Government and people of Việt Nam, working hand in hand with all partners and stakeholders to accelerate the implementation of all 17 Goals. Together, we must aim to achieve breakthroughs in implementing the priority transitions, accelerate the accomplishment of the SDGs, and propel Việt Nam toward its goal of becoming a high-income country by 2045.
Ms. La's dream for her children mirrors our collective aspiration for a more sustainable, inclusive, and resilient future. It is a reminder that the SDGs are not just global goals; they are the individual stories of hope and transformation that unfold every day, in every corner of Việt Nam and the world. It is our mission to ensure that these stories end with success.
UN entities involved in this initiative
RCO
United Nations Resident Coordinator Office