Press Release
National Consultation Workshop in Viet Nam Marks a Key Milestone in the Development of the National Action Plan on Women, Peace, and Security
06 November 2023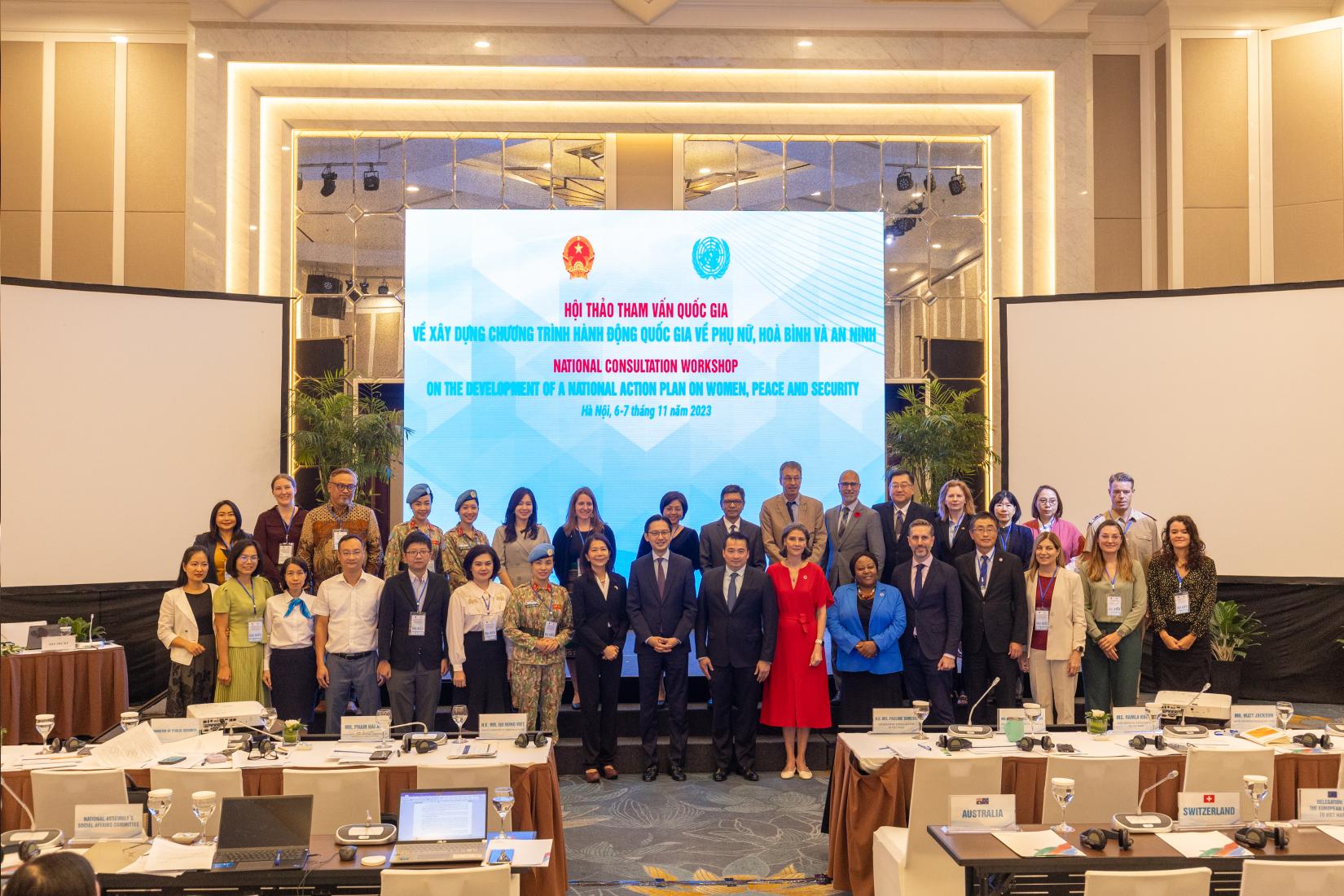 6th November 2023, Ha Noi, Viet Nam – Today marks a historic gathering of government leaders, officials, and representatives from various ministries, international organizations, UN agencies, provinces, academia, and social organizations, numbering over 200, convened to champion the cause of women's empowerment and peace in Viet Nam. The assembly was convened to discuss and actively contribute to the formulation of the first National Action Plan on Women, Peace, and Security (NAP WPS). The workshop is organized by the Ministry of Foreign Affairs and is supported by UN Women in Viet Nam, together with Canada and United Kingdom's governments.
Recognizing the paramount importance of the Women, Peace, and Security agenda in the context of Viet Nam, the participants engaged in robust deliberations. Key topics on the agenda included the review and refinement of the draft NAP WPS, fostering efficient coordination throughout the development process, and securing necessary financing for the realization of the NAP WPS objectives.
The event symbolizes a significant step in Viet Nam's commitment to promoting gender equality, peace, and security. By bringing together diverse stakeholders and fostering collaboration, Viet Nam aims to address critical issues and establish a framework for a more inclusive, secure, and peaceful society.
The workshop stands as a strong testament to Viet Nam's dedication to realizing the principles of the Women, Peace, and Security Agenda that had been established by the United Nations Security Council in October 2000 through the Resolution 1325 (UNSCR 1325) and its subsequent Resolutions on women, peace, and security.
Speaking at the workshop, United Nations Resident Coordinator in Viet Nam Mrs. Pauline Tamesis said "The NAP being discussed today represents a significant step towards a more inclusive, equal, and secure world for Vietnamese women and girls. It underscores the importance of women's participation in the realms of foreign politics, defense, security, and their vital role in preserving international peace and security. On this journey, let us remember that we are not just shaping a document, but we are shaping the future of women and girls in Viet Nam and the peace and security of this nation".
NAP WPS will become a blueprint for Viet Nam in localizing the WPS agenda into Viet Nam's unique culture and context encompassing the four pillars of WPS agenda - prevention, protection, participation and relief and recovery – and the emerging security threats such as climate change, disasters, cybersecurity, and pandemics.
The National Drafting Committee Members comprised of representatives from MOFA, MOLISA, MOD, MPS, MOH, MONRE, MPI, MOIC, MARD, MOCST, MOJ, CEMA, NA, VWU and YU. The Committee and the leading ministry, MOFA expect to submit the final draft to the Prime Minister's Office for review in December 2023.
- End
For media inquiries and further information, please contact:
Ms. Hoang Thao
Communications and Advocacy Analyst, UN Women Viet Nam
Ms. Yoomi Jun
Communications Officer, UN Women Indonesia
Hoang Bich Thao
UN Women
Communications and Advocacy Analyst
UN entities involved in this initiative