Story
Viet Nam has made significant Human Development progress with low increases in inequality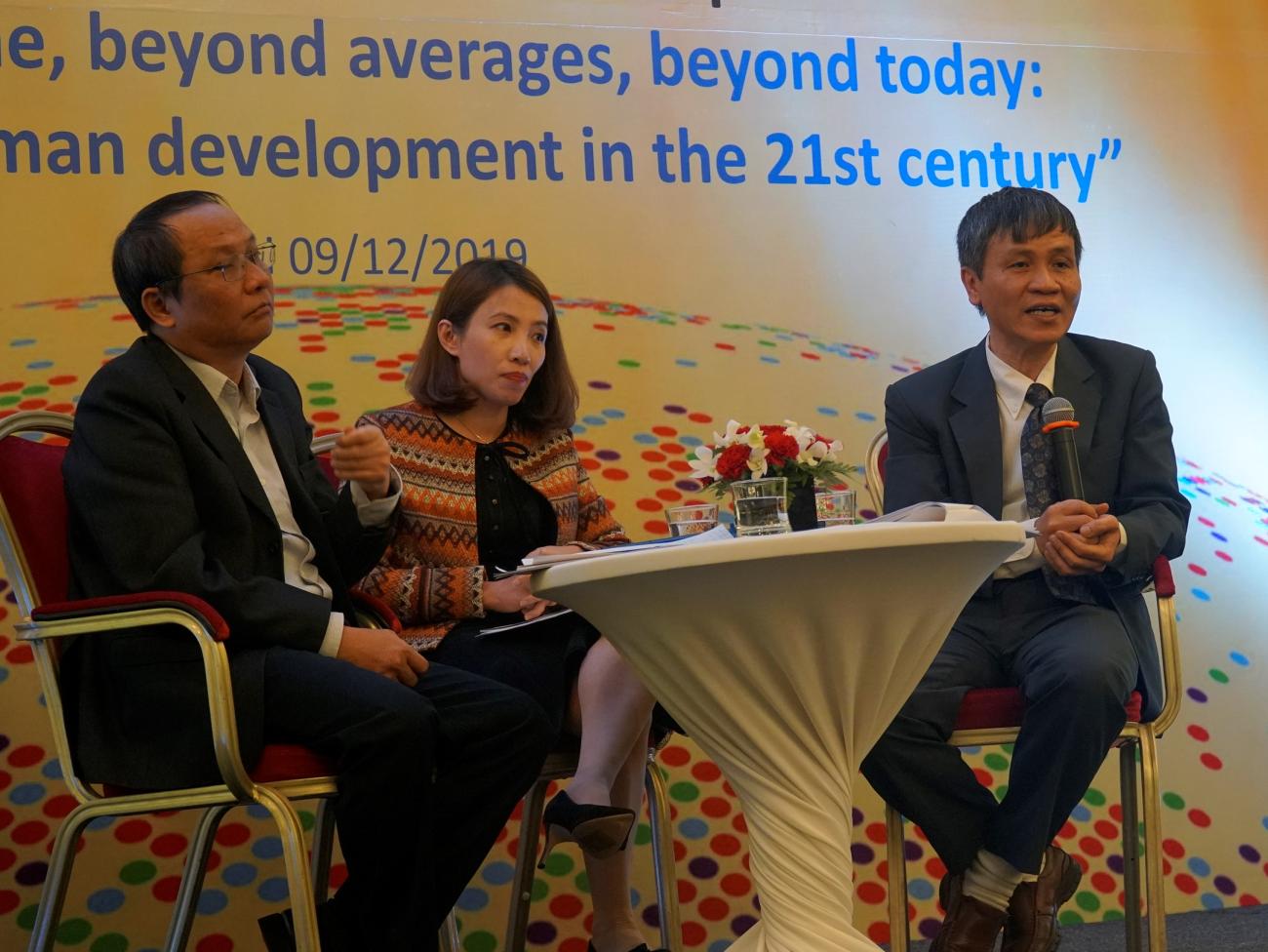 New UNDP Human Development Report provides a comprehensive picture of the many forms of inequality shaping the 21st Century and how to tackle them.
Viet Nam has made good progress in human development, with an average annual Human Development Index (HDI) growth of 1.36 percent during the 1990-2018 period. This places Viet Nam among the group of countries with the highest HDI growth rates in the world.
This is one of the key finding of the 2019 Human Development Report, released today by the United Nations Development Programme (UNDP) and entitled "Beyond income, beyond averages, beyond today: inequalities in human development in the 21st Century."
Addressing the report launch in Viet Nam, UNDP Resident Representative Caitlin Wiesen highlighted that the 2019 Human Development Report discloses the next generation of inequalities emerging around digital technology, education, and the climate crisis and proposes new ways of measuring and approaching inequalities. Ms. Wiesen commended Viet Nam for having firmly embarked on people-centered development and equality in its current socio-economic development strategies and plans.
"Viet Nam's significant Human Development progress since 1990 has been achieved with relatively low increases in inequality. Taking into account the Inequality Adjusted HDI, Viet Nam is eight places higher than its HDI ranking in 2018," she said. "Viet Nam is at a critical juncture as it designs its next Socio-Economic Development Strategy, with decisions made today determining whether the country will continue its current pattern of growth with relatively low inequality or whether new forms of emerging inequalities will be further entrenched and deepened with unsustainable growth pathways".
According to the report, Viet Nam's Human Development Index (HDI) ranks upper end of the Medium Human Development group of countries. With the HDI value of 0.693, Viet Nam ranks 118th out of 189 countries, and needs only an additional 0.007 points to join the High Human Development group.
Meanwhile, Viet Nam's loss of HDI value due to inequality in 2018 is 16.3%, its loss of income due to inequality is 18.1% and, its GINI coefficient at 35.3 -- are among the lowest in the East Asia and Pacific region.
Viet Nam has also been performing well in terms of gender equality. The Gender Development Index value of 1.003 puts the country in the top group out of 5 groups of 166 countries in the world, with Viet Nam ranking 68th out of 162 countries in Gender Inequality Index. Particularly commendable is the share of seats in parliament which places Viet Nam among the top third of countries globally.
However, there are important areas for improvement: Viet Nam ranks among the bottom third of countries globally in terms of sex ratio at birth (1.12), violence against women by non-intimate partners (34.4%) and women with accounts in financial institutions or with mobile money service provider (30.4%).
Turning to performance in sustainable, environmental development, the HDR highlights Viet Nam's forest coverage as among the top third of countries globally. At the same time, it is among the bottom third of countries in terms of carbon emission per capita.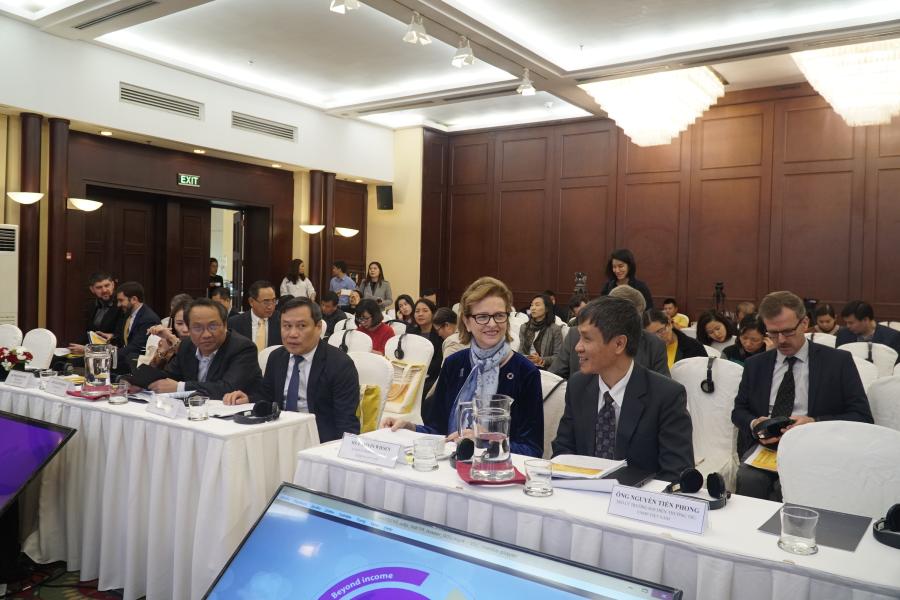 Beyond income, beyond average, beyond today
The Report sets out that despite the unprecedented progress against poverty, hunger and diseases, systemic inequalities are deeply damaging our society. The report analyzes inequality in three aspects: beyond income, beyond averages, and beyond today. But the problem of inequality is not beyond solutions, it says, proposing a range of policy options to tackle it.
Thinking beyond income
Inequality cannot be only framed around income, fed and measured by the notion that making money is the most important thing in life. Viet Nam has recognized this and was among the several countries in the world that have been pioneering the application of Multi-Dimensional Poverty measurements and approach since 2015. The country's achievement in reducing multi-dimensional poverty is also remarkable: with the multi-dimensional poverty index (MPI) value of 0.019, Viet Nam ranks 29th out of 102 countries and is among the top countries in East Asia and Pacific on this indicator.
Inequality needs to be also looked at through the lens of distribution of power, be it political or monopoly in the market. Going beyond income will require tackling entrenched social and political norms embedded deep within different nations' or population groups' histories and cultures. Dignity as equal treatment and nondiscrimination can be even more important than the imbalances in income distribution.
Looking beyond averages
The Report calls for analyzing and addressing the life-course gender gaps and inequalities among different population groups and geographical locations. Viet Nam's disaggregated data show that despite the remarkable progress at national level, Ethnic Minority groups lag behind in many human capabilities, such as life expectancy, health and education (especially vocational training and tertiary education).
Planning beyond today
Looking beyond today, the report asks how inequality may change in future, looking particularly at two seismic shifts: technological transformation and the climate crisis. The HDR recommends social protection policies that would, for example, ensure fair compensation for 'crowdwork', investment in lifelong learning to help workers adjust or change to new occupations, and international consensus on how to tax digital activities – all part of building a new, secure and stable digital economy as a force for convergence, not divergence, in human development.
"This Human Development Report sets out how systemic inequalities are deeply damaging our society and why," said UNDP Administrator Achim Steiner at the global launch in Bogotá, Colombia. "Inequality is not just about how much someone earns compared to their neighbour. It is about the unequal distribution of wealth and power: the entrenched social and political norms that are bringing people onto the streets today, and the triggers that will do so in the future unless something changes. Recognizing the real face of inequality is a first step; what happens next is a choice that each leader must make."
Human Development Report 2019: http://hdr.undp.org/
Written by
UN entities involved in this initiative
UNDP
United Nations Development Programme