Viet Nam Floods Response Plan
The Floods Response Plan reflects those areas the Government of Viet Nam has asked for support and aims to augment the wider government response. To ensure no one is left behind, the Floods Response Plan is focused on meeting the needs of those most vulnerable, supporting them with multi sector assistance, including Emergency Shelter & NFI; Education; Food Security, Agriculture & Livelihoods; Health; Nutrition; Protection and Water, Sanitation and Hygiene (WASH).
STRATEGIC OBJECTIVES
Deliver immediate, life-saving assistance to those in the most urgent need, in support of the Government response and in line with Government requests for assistance.
Ensure the most vulnerable people, including women and children, elderly people, persons with disabilities, and LGBTIQ persons, are protected against violence and have equal access to humanitarian assistance and services without discrimination.
Prevent the outbreak of communicable diseases and effectively monitor risks to the health of the affected population, including the nutrition status of vulnerable people such as pregnant and lactating women and children under five years of age. Deliver assistance in a manner that minimizes risk of COVID-19 for disaster-affected people.
Ensure access to multi sectoral assistance and re-establish critical services. Promote the repair of key public service infrastructure in affected provinces, ensure food security, by restoring lost food stock, livestock and livelihoods, ensure access to sustainable drinking water, sanitation facilities and hygiene supplies, housing, replacement of productive assets and household items, and access to basic medical, social and public services to support the affected population transition to recovery and rebuild their lives and livelihoods.
The response plan is a product of the Disaster management Group (DMG), and as such it has been developed in close consultation with humanitarian sector leads, UN Agencies, INGOs/NGOs and the Viet Nam Red Cross. The plan will be monitored with regular situation reports as well as the 3W matrix (Who does What, Where). However, should there be significant change in the situation the plan can be amended.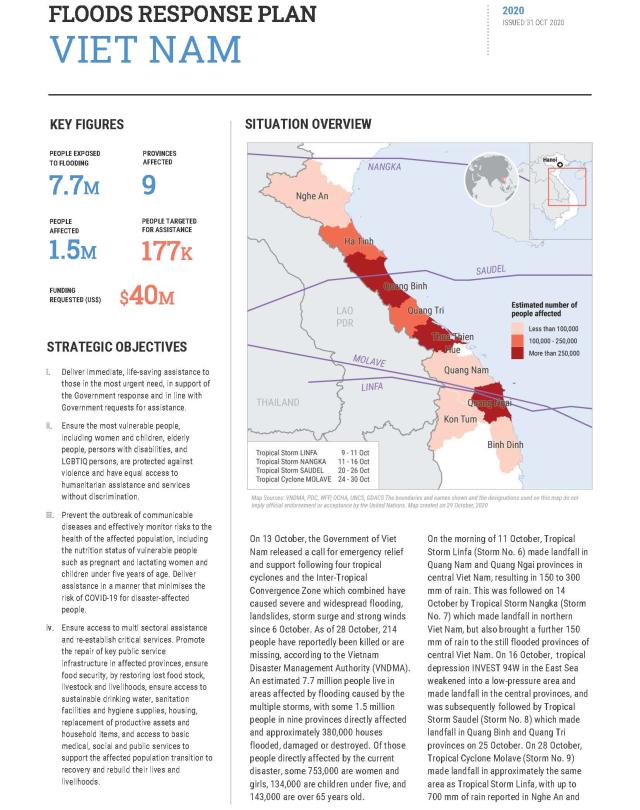 Goals we are supporting through this initiative